Annacia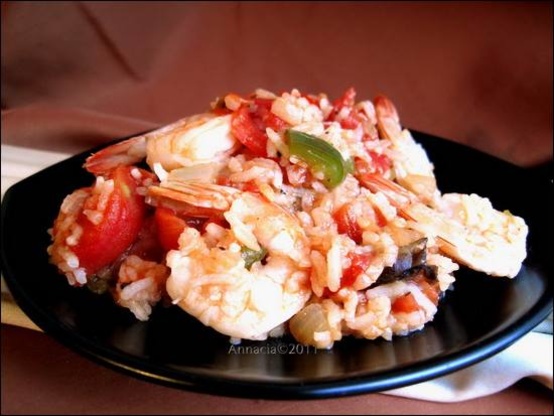 When I first got married, I couldn't cook, but I did charm my husband with this dish. This was one of the first dishes that I made, that I didn't ruin. It is a very hearty, robust, satisfying, comfort meal. Oysters, shrimp and rice...ummmm, perfect with a crusty bread and butter. Please don't let the ingredients turn you off....they blend beautifully together...I hope that you will enjoy this as much as we do.

I really don't know why it took me so long to tag this. I have looked at it many times over a period of years and very glad that I finally tried it. After talking to BK I used smoked oysters as fresh (or even "fresh" in a jar) isn't available here. The recipe is simple and easy to follow. I made as directed and then did add some Buffalo sauce to my serving and DH was happy with it as was. It's a twofer that was a winner with both of us. Thank you much my friend, we love your recipe. :D
2

tablespoons oil, olive

1

pint oyster, fresh, shucked

2

onions, sweet, chopped, medium size

1

shallot, french, finely minced

1 -2

garlic clove, pressed
1⁄2 red pepper, small, finely chopped
1⁄2 green pepper, small, finely chopped

1

lb shrimp, raw, large, shelled & deveined

1

cup rice, long grain

2

cups tomatoes, stewed, drained, chopped

2

cups broth, chicken

1

bay leaf
1⁄4 teaspoon ground thyme

1

teaspoon salt, coarse, sea
1⁄2 teaspoon pepper, black, fresh ground

1

teaspoon sugar, white
1⁄8 cup parsley, minced
Heat olive oil and add the shucked oysters. Cook over low heat until the edges begin to curl.
Remove the oysters from the pan and refrigerate until needed.
In the same frying pan cook the onions, shallot, garlic and peppers for 2 - 3 minutes on low.
Next add the shrimp and cook until the shrimp turns pink. Add a little more olive oil if necessary.
You will also remove the shrimp from the pan and refrigerate along with the oysters until needed.
Bring the pan up to medium heat, add the rice, stirring constantly until the rice browns.
Next add the tomatoes, broth, bay leaf, thyme, sea salt, pepper and sugar and bring to a boil.
Cover and simmer on low heat until all the liquid has been absorbed.
Add the oysters and shrimps back into the rice and heat thru, stirring gently.
Garnish with the minced parsley.