The Best Belgian Waffles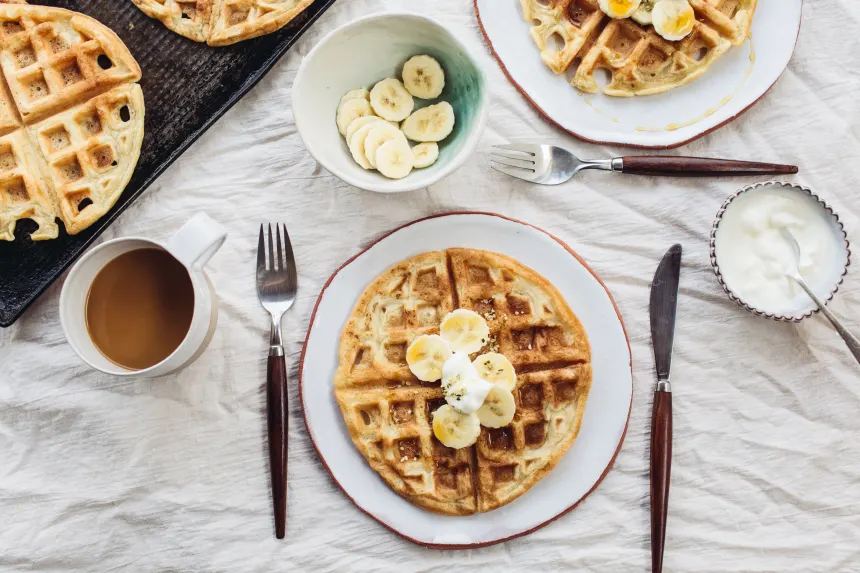 photo by Izy Hossack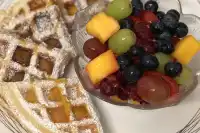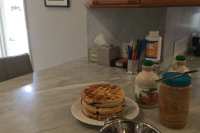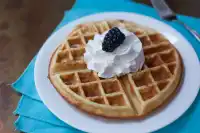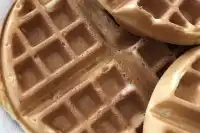 Ready In:

40mins

Ingredients:

8

Serves:

4-6
directions
Oil the waffle maker.
Sift the dry ingredients together in a large bowl.
In separate bowl, separate egg whites and beat until stiff peaks form.
In a separate bowl, mix together the egg yolks, milk, oil , and vanilla, stir slightly.
Add to dry ingredients and mix well.
Fold in egg whites.
Cook in waffle iron on medium-high heat for around 5-10 minutes.
Questions & Replies

Hello. We LOVE this recipe. I've gone through many comments and tips but so far have not seen what I can add to make it a chocolate waffle. Obviously there would be cocoa but how much? And would I need to add any other additional ingredients like more sugar, butter, etc? Any advise would be greatly appreciated.

 
Reviews
LOVED IT!! <br/><br/>I searched high and low for a great recipe for my new Belgian waffle iron and I found the best with this one. After making it exactly by the recipe a few times, I modified it slightly (though it was already delicious the way it was :-) They are light, crispy on the outside, soft on the inside when freshly made. <br/><br/>My modifications were:<br/><br/>1) adding 1 tsp vanilla<br/>2) adding 1 Tb malted milk powder<br/>3) being more generous with the sugar with a heaping scoop, not a leveled-off cup<br/><br/>My kids both love these waffles and the recipe is easy to follow and even turns out well when you goof, LOL.... I mistakenly added twice as much oil with one batch and they were still wonderful! <br/><br/>I make a half recipe of these which still makes 4.5 large waffles on my George Foreman grill/waffle iron. (And I cook the waffles according to my appliance's instructions, 425 for 7-8 minutes.) What we don't eat then gets stored in a freezer bag for later. They do get soft/chewy after they cool down or are stored in refrigerator, but they are still delicious! Just microwave for a few seconds and enjoy. My toddler likes them plain as a snack, they are that sweet and tasty. And I like that they aren't "crumby" for him to eat when not in his high chair.

 

GREAT Recipe, Very quick and easy!!! Thank you. <br/><br/>I have a Magic-Chef TSK-240B. This recipe makes 5 (1 cup batter) or 6 (3/4th cup batter) Waffles. I cook for 2 minutes, then, I manually flip for an additional minute. <br/>PERFECT every time! <br/><br/>If I plan to freeze I only cook for 2 minutes (no flipping). <br/><br/>The substitutions I made (and will continue to use) are:<br/>Add up to 2 Teaspoons Vanilla<br/>Replace 1/2 cup of the Milk for 1/2 cup Ginger Ale <br/>(This ensures a light and fluffy batter, plus adds an extra wee bit of flavor)<br/>If you are using Self Rising flour, only add 1 Teaspoon of Baking Powder.

 

I was looking for a recipe to use in my new Kitchenaid Pro Line waffle maker. I chose this one because someone said that this one is so good they don't want to try any others, and that it's crisp outside and so light inside. It's true! I feel no need to try any other recipes, and that is unusual for me! I used half cake flour and half white whole wheat. I did add about a tsp of vanilla and 2 tbsp malted milk powder. I ended up with a waffle as good as any I've had at a restaurant--where I'd pay $6-$8 for it. The whole family was delighted, and my boys asked if I'm make them every night. I had to say no to that but we will be making them often!!!! I got 6 waffles from my Kitchenaid.

 

YES! Finally I found my go-to recipe. I have tried countless other recipes to use with my waffle maker that I got for Christmas and they were so bad that I was starting to think about returning it and sticking with frozen waffles. That is until I found this one. The waffles came out so light and crispy and my 4 year old loved them. One thing I will say is that it drove me crazy that I had to do the conversions from grams and mLs to cups. I had to look it up on 3 different conversion websites (I know, I'm bad at math). So for anyone else who may need help like I did, it's 2 cups of flour and 1/4 cup of sugar.

 
Tweaks
Hey everybody. Seems many of you are not noticing the clickable links at the top of the recipe which allow you to tailor the recipe to your preference: YIELD lets you convert the amount of ingredients needed to make the number of waffles you want UNITS let you choose your preferred mode of measurement, METRIC for ml, grams; "US" for USA/Imperial measures cup, ounce, teaspoon/tablespoon

 
RECIPE SUBMITTED BY
I live in upstate New York. I am retired and now have time to enjoy my children, my grandchildren and great grandchildren.
View Full Profile