Jambalaya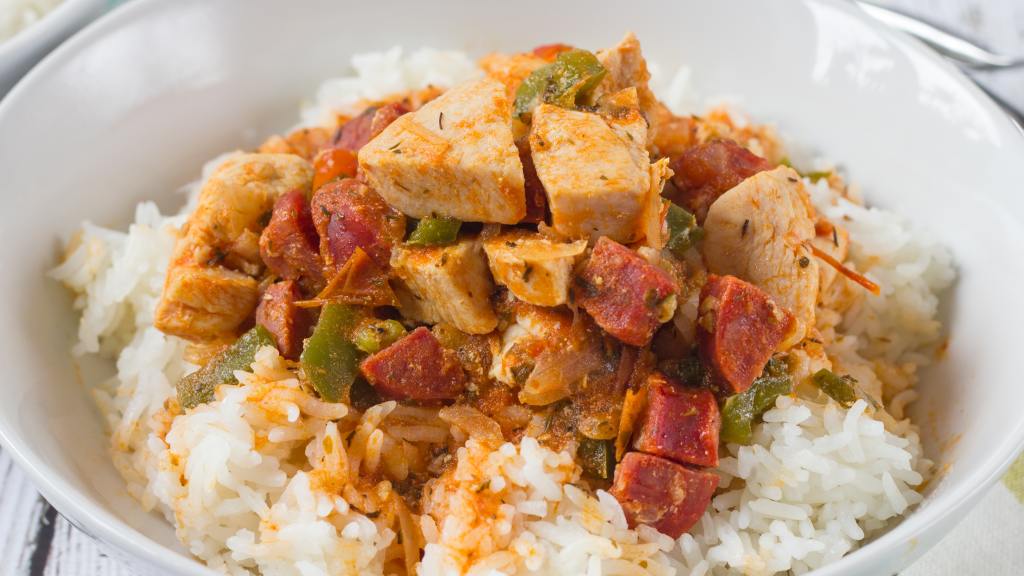 Ready In:

1hr 50mins

Ingredients:

17
directions
Melt shortening in a large/huge saucepan over medium heat.
Cook chicken pieces until brown on all sides and cooked about half way through, around 20 minutes or so.
Remove and add onion, green pepper, celery and garlic.
Cook slowly stirring now and again until onions are tender.
Add sausage and cook 10 min more.
Return chicken and add all remaining ingredients EXCEPT rice and stir together well.
Cover and simmer for 30 min stirring now and again.
Remove cover and continue to cook until broth cooks down a bit-you don't want it too thick as the rice will soak up the juice.
Serve up the rice in bowls and ladle the Jambalaya on top, and offer more cayenne or Tabasco at the table.
***I know that cooking the rice on the side and not in the dish will cause some to have a heart attack, but I've found the flavor much better this way, IMHO.
Diana.
Join The Conversation
MMMMMMMMMMM....was what my husband said when he tasted this. I didn't make any big changes. I had cooked chicken breast to start with, so skipped that step. I browned the smoked beef sausage (from San Antonio), removed it with a slotted spoon. I added a bit of olive oil and that is what I sauteed the vegetables in. Followed it the rest of the way through. Count me as a non-purist, we ate it OVER rice. These food snobs make me crazy. Food is art. At the end of the day, it is what you like to eat and what you can afford to eat. Another good reason to eat rice on the side is that it is easier to control your rice portion. If you are dieting or a diabetic, that is important. That said, it was soupy enough, one could have added 1 1/2 cups of rice and cooked it. Do we not have enough problems in this world that we have to be unkind to each other on a recipe site? Dianna, thank you for the recipe. I will be making it again!

You are right about the heart attack. The recipe looks great but you should not have called it Jambalaya. The origin of New Orleans jambalaya is Jollof rice, a West African dish. Many of the slaves that lived in New Orleans came from West Africa and would have been familiar with the dish of Jollof rice. Like jambalaya, Jollof rice was traditionally made from whatever ingredients were handy, such as seafood, crawfish, and various meats. Tomatoes are always present in its preparation. Creole jambalaya with shrimp, ham, tomato, and andouille sausage. Another origin states jambalaya originates from the French Quarter of New Orleans, in the original sector. It was an attempt by the Spanish to make paella in the New World, where saffron was not readily available due to import costs. Tomatoes became the substitute for saffron. As time went on, French influence became strong in New Orleans, and spices from the Caribbean changed this New World paella into a unique dish. In modern Louisiana, the dish has evolved along a variety of different lines. Creole jambalaya, or red jambalaya, is found primarily in and around New Orleans, where it is simply known as "jambalaya". Creole jambalaya includes tomatoes, whereas Cajun jambalaya does not. Either way - the rice is cooked with the rest of the ingredients. It is never separate like it is in gumbo.