Noo8820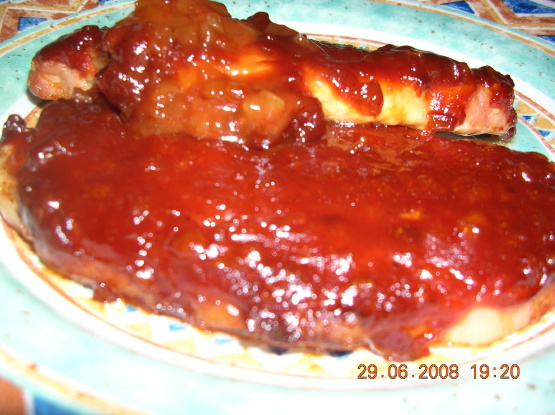 Can't remember where I got this recipe from but it is EXCELLENT !! It is sure to become a favorite of yours.

yum yum yummy. i used sweet onions, spicey brown mustard, rice vinegar, 3 tablespoons brown sugar, and no liquid smoke (don't have any) i replaced the liquid smoke amount plus a tiny bit with honey bbq sauce. i made 3 chops so when i make 6 chops in the future i will double the recipe since i like extra sauce. it was exactly what i was looking for. thanks
Sauce: In pan combine water,vinegar,sugar,mustard,salt, pepper,and red pepper and onion.
**You can add a small amount of lemon juice if desired.
Bring to a boil, then reduce heat and simmer uncovered 20 minutes.
Stir in ketchup, Worcestershire sauce, and liquid smoke and return to a boil.
Remove from heat.
Brown the chops on both sides and place in a casserole dish.
Pour the sauce over the chops.
Bake 350 25-30 minutes.