Lorac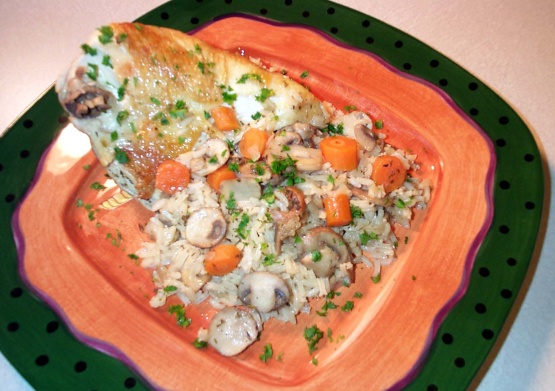 A dish thats easy and quick. Tastes good too!

Top Review by Lorac
Make room in your cook book for this dish! Miss Annie uses poultry seasoning to transform a simple chicken and rice dish into an addiction. I thin sliced the carrots and mushrooms and browned the onions and mushrooms. I might add a bit more poultry seasoning next time because it enhances the the other flavors without dominating. Thank you Ann, I will make this often and share the recipe with my family and friends.
Brown chicken pieces, in oil, over medium heat in a 12-inch skillet with non stick coating, about 15 minutes.
Remove and set aside.
Drain fat from skillet, if necessary.
Add mushrooms, carrots, rice, onion, bouillon, poultry seasoning, 2 cups water, and salt.
Place chicken atop rice mixture.
Simmer covered for 30 minutes on medium-low, or until chicken and rice are done.
Serves 4.