Braised Celery With Herbs
Annacia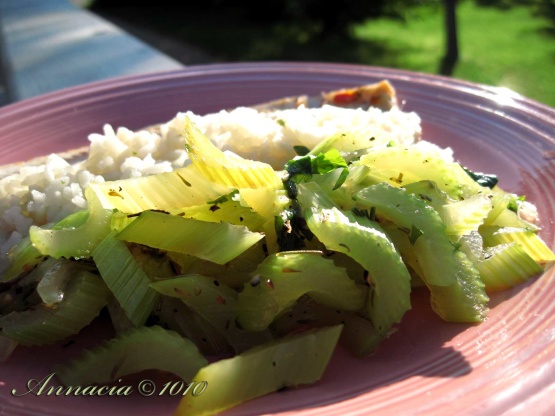 "The Classic Snacking And Salad Vegetable, Served As A Delicious Cooked Side Dish". I cannot believe how tasty this was. Super good and more than quick to make. Try it, you'll love it!

This was SO good!! I loved that it was made with things easily found in my cupboard and is such a fabulous way to use up some extra celery. What full flavor and low-cal as well! I will definitely be making this again. It's just what I hoped to find. Thanks so much for posting it. If you're hesitating to make this, don't!! It's wonderful!
Cut celery stalks into diagonal slices about 1/4-inch wide.
In large saucepan, bring chicken broth to full boil over HIGH heat, adding chopped onion with herbs and seasonings. Add sliced celery and return broth to simmer. Reduce heat and cook for 4-5 minutes, or until barely tender. Do not allow to lose full crispness.
Drain immediatley and place in serving bowl. Toss with butter and additional herbs. Serve hot.