Bell Pepper Cream Cheese Pasta
loof751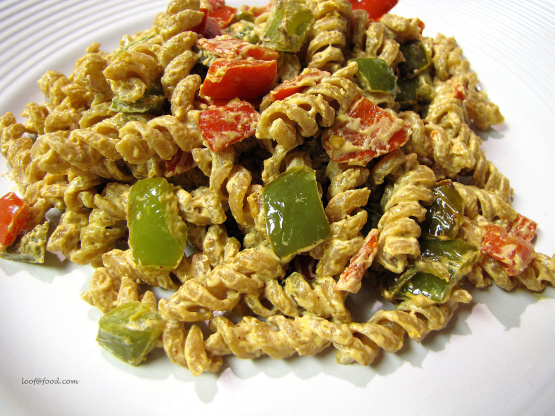 This recipe comes from German chef Tim Maelzer and it is not only easy and quick to prepare, but also delicious and rather healthy, too. :) He prepares the recipe with carrots, but all we had were bell peppers, so used those. Feel free to play around with veggies and spices...

Perfect pasta meal for a vegetarian night! Loved the peppers in this...used red/and yellow. I also used a bit of skim milk, and added 1 garlic clove. Dressed with paprika, (sweet) and added a good dash of sea-salt. I couldn't stop taking little bites prior to serving it was that good! Thanks for such lovely recipes, loula!
Prepare pasta according to package directions.
Meanwhile heat oil in a pan. Add onion and bell pepper and sautee for 5 minutes. Add curry powder and sautee for another 5 minutes.
Drain pasta and return to the pot.
Stir cream cheese into veggies and add this mixture to the pasta in the pot. Season with pepper to taste and if sauce is not thin enough, add the milk.
Serve. :).