Warm Potato Salad With Beer and Mustard Dressing
Prep 30 mins
Cook 30 mins

Posting for ZWT6 German/Benelux region. Known as Kartoffelsalat, this side dish is popular throughout Germany. Use pale lager when preparing the salad, as a darker beer will discolor the potatoes. Recipe is from myrecipes.com.
Directions
To prepare salad, place potatoes in a large saucepan; cover with water. Bring to a boil. Reduce heat, and simmer 25 minutes or until tender. Drain; cool. Cut potatoes into 1/4-inch slices. Combine potatoes, red onion, and next 6 ingredients (through 2 tablespoons vinegar); toss gently.
To prepare dressing, heat 2 tablespoons oil in a small skillet over medium-high heat. Add 3/4 cup yellow onion to pan; sauté 3 minutes or until tender. Add 3/4 cup beer and next 4 ingredients (through pepper); bring to a boil. Cook until reduced to 1/2 cup (about 6 minutes).
Place mixture in a food processor. Add mustard to food processor; process until smooth. With processor on, slowly pour remaining 2 tablespoons olive oil through food chute, processing until smooth.
Pour dressing over potato mixture; toss gently.
Serve immediately.
Most Helpful
I have eaten this when living in Germany and have always loved it! I used red skin potatoes and left the skins on for colour and fibre. I also used red onions and spring (green) onions too. My beer of choice was Stella Artois and I managed to get some German mustard for a totally authentic taste! Made for the Cheese and Whine Team for Germany and ZWT#6. Merci Papa D! FT:-)

Loved this. Not too sweet. I used sweet pickle relish instead of sweet pickle (I guess it's more or less the same). Only thing different was that I used less oil, about half. Otherwise, no changes. BF is not fond of raw onions, so he avoided the red onions even though I cut them very small. I liked it exactly as I made it, thank you! My beer was a Corona light, mustard was my favorite, Koskiusko. :)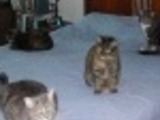 This was easy! I used a Pale Ale but everything else was the same. Made for ZWT6.