Chef OG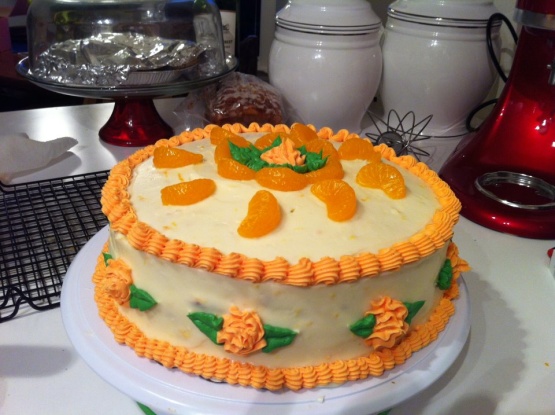 Adaptation of a recipe from the Bubble room in Captiva Florida
Preheat the oven to 350 degrees F.
Grind up graham cracker crumbs in a food processor. Measure out 1 cup and put them into a large bowl. Add the brown sugar and sliced almonds. Mix together. Then add in the softened butter and combine with a fork. At this point I like to take my hands to crumble everything together.
Lightly grease and flour two 9 inch round baking pans. Line both pans with wax paper or parchment. Divide the crumb mixture between the two pans and spread it out over the bottom of the pans. Set aside.
Sift together the flour, baking powder and kosher salt into a bowl. Set aside.
In a bowl of a stand mixer with the paddle attachment, mix together the sugar, milk, orange juice, canola oil, vanilla extract and 2 Tablespoons of orange zest. Mix everything together.
Add in the eggs and mix to combine.
Slowly add in the dry ingredients and mix until almost combined. Take a spatula and fold the ingredients together.
Divide the batter between the two pans and spread the batter on top of the crumb topping.
Bake the cakes at 350 degrees F for 25-30 minutes until a knife inserted into the cakes comes out clean.
Cool the cakes on a cooling rack for 10 minutes. Run a knife alongside the edges of the cake. Then carefully invert the cakes onto the cooking rack. If some of the crumbs get stuck to the pan, don't worry. Just take it off the pans and press it back onto the cakes.
*Tip before stacking the cakes: cut the dome off that forms on top of the cake when baking. You can use a serrated knife to do this.
To make the cream cheese frosting:.
Sift 3 cups of powdered sugar and set aside.
In a bowl of a stand mixer with the paddle attachment, mix together the softened cream cheese and butter until smooth, about 2 minutes.
Add in the orange zest, vanilla extract and orange juice. Mix.
Slowly add in the powdered sugar on low speed. Then increase the speed to medium low and mix until the frosting is smooth.
At this point, I put the frosting in an airtight container to let it firm up a little bit before frosting the cake.
Take one of the cakes and place it crumb side up.
Fit a piping bag with a round decorating tip and fill it with the frosting. Pipe the frosting around the edge of the cake.
Spread some of the frosting on top of the crumb topping. I drop the frosting all over the crumb topping and then spread it out. It makes it easier to spread out this way.
Place the other cake on top with the crumb side down. Frost the cake with the rest of the frosting.
Enjoy!