Boomette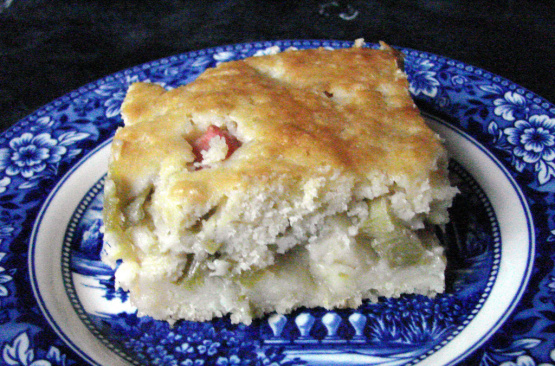 This decadent cake came from a student's grandmother, and was the child's request for her class treat. Her mother also put confectioners frosting on it while hot and sprinkled with some chopped pecans. The class loved this, and so does my family:) The rhubarb and the batter.

Top Review by momjan
Most excellent recipe. I added a bit of cinnamon to the rhubarb-sugar combo. Topped it with vanilla ice cream or some whipped cream...yum...
Preheat oven to 350 degrees.
Put flour, salt, 3/4 cup of sugar, and baking powder in large mixing bowl. Add butter and cut into until crumbly.
Beat eggs in small bowl.
Add eggs and milk to flour mixture.
Stir together like muffins.
In separate large bowl, (make sure rhubarb is dry or it adds wetness to cake) put chopped rhubarb and 1 cup of sugar.
Mix the rhubarb and sugar together.
Put 2/3 of the cake mixture into a 13 X 9 inch that you did not grease, I repeat do not grease.
Pour rhubarb on top.
Drop remaining cake mix on top of the rhubarb.
Bake for 55 minutes, or until toothpick comes out clean.