Dorel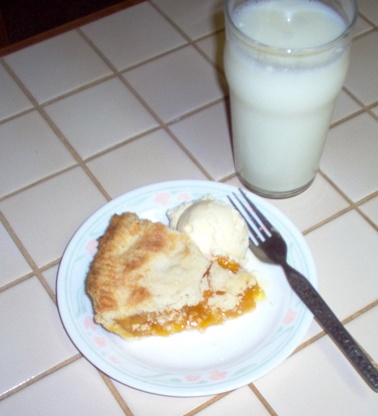 Dried Apricot Pie (Posted by request) ** Please see the note regarding the amount of sugar.

This was a pretty good pie. I didn't have orange liqueur so I tried substituting orange extract. Wasn't a very good idea, but I think I will try to make this pie again, with the liqueur and see how it turns out. The pie filling was a little bit more liquid than I like, but it might have been because of the substitution I made. Definitely try this recipe if you like apricots, it is good stuff.
18

ounces dried apricots
1 3⁄4 cups water

1

tablespoon cornstarch

1

tablespoon orange liqueur
1 3⁄4 cups white sugar

1

pastry for a double-crust 9-inch pie
Preheat oven to 400°F.
Slice the dried apricots in half and rinse them with water.
Place them in a sauce pan with the water, bring to a boil and cook for 5 minutes.
Combine the cornstarch with the orange liqueur and about 1 tablespoon of the apricots' cooking liquid.
Mix until smooth then stir into the cooked apricots.
Add the white sugar and combine.
Pour mixture into the unbaked pie shell and seal with the top crust.
Brush milk over top crust for color, if desired.
Bake at 400°F for about 1 hour.
**PLEASE NOTE: If your dried apricots are sweet, you may want to cut the amount of sugar from the 1 3/4 cups called for in the recipe to about 2/3 to 3/4 cup of sugar (or to your taste) to prevent the pie from being overly sweet. The dried apricots I use are quite tart/sour, so the 1 3/4 cups of sugar does not produce an overly sweet pie.