Parsley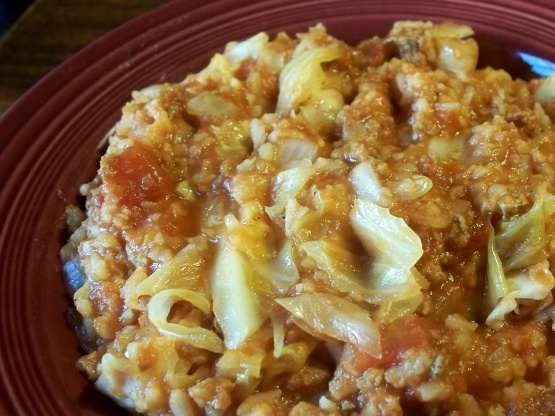 A family favorite, and they don't even mind the cabbage!

Made it for the second time in a month due to my family requesting it again. I did use ground sausage instead of turkey, and added more vegetables on top on the onion layer (mushrooms and celery). The recipe does not specify, but make sure you cook the rice prior to putting it in the crockpot. This will be in the regular rotation at my house, especially in the fall and winter!
Brown ground turkey.
In crock pot, layer chopped cabbage, chopped onion, rice, and ground turkey.
In bowl, mix together diced tomatoes, tomato sauce, brown sugar, salt and pepper, and mustard. Pour over top of layers.
Cook on high for 1 hour, then on low for about 4 hours. (Use best judgement, every crock pot is different.).
Enjoy! :).