Crispy Sweet and Sour Pork
Diana 2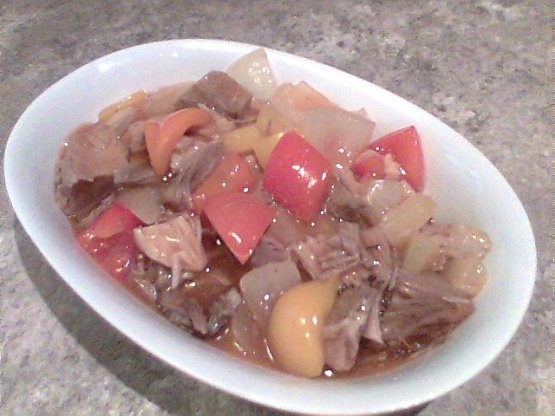 While there are many recipes on Zaar for Sweet and Sour Pork, this is one that keeps the pork crispy. After finding this recipe years ago, I've used no other. Leftover pork roast or some thick, cooked pork chops are the basis for this. Planned leftovers are good! The recipe is from Busy Woman's Cookbook, published by Farm Journal in 1961.

I love crispy (hate mushy). The crunchy pork was just what I was craving. I more or less followed the rest of the recipe, a basic stir fy, but the meat was fantastic. Everyone raved about it!
Toss pork pieces with salt and 1 tablespoon cornstarch.
Mix egg and flour to make a batter.
Dip pork pieces into batter with slotted spoon.
Fry in hot oil until nicely browned.
Drain on paper towels and keep warm.
In a deep skillet, mix sugar and cornstarch; stir in water, pineapple juice, ketchup, soy sauce and vinegar.
Bring to a boil, sirring constantly, until thickened.
Continue cooking and stirring for two minutes.
Add green pepper and onion; cook for five minutes.
Add pineapple chunks and pork pieces and simmer, uncovered, for six to eight minutes or until pork pieces are heated through.