ChefLee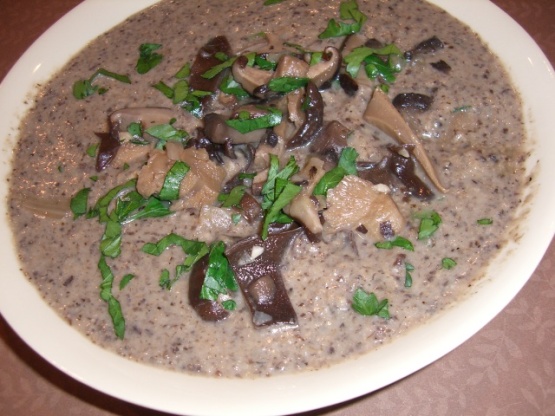 A creamy soup flavored with wild mushrooms and a little wine to balance it out. I've left out the dried mushrooms (too expensive) but used a variety of fresh ones with good results. A Martha Stewart recipe.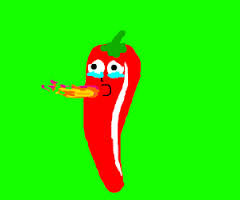 This is sooooo fabulous!!!! I have been waiting for a recipe to use some dried mushrooms that I had and this is great!! I used 1 oz dried shiitake, 1/2 oz dried wood ear, and 1/2 oz dried oyster mushrooms. Then I used fresh shiitake and portobello mushrooms. I used chicken broth to reconstitute my dried mushrooms for even more flavor!! Since I did that, I used unsalted butter. Finally, I chose cognac over the madeira wine. This mushroom soup is light and has many layers of flavor!! It is very beautiful too!! I love this recipe, will definitely make again!! Thanks for posting!!
Place dried mushrooms in a medium bowl and pour in the boiling water. Let stand 15 minutes, or until mushrooms are softened. Remove mushrooms with a slotted spoon, chop and set aside. Pour the mushroom liquid through a fine sieve or cheesecloth into a bowl; discard solids and remaining sand. Reserve.
Melt butter in a medium saucepan over medium heat. Add the onion and garlic and cook until softened and translucent. Add the wild and reserved mushrooms, in two batches if necessary, and cook stirring occasionally until they have released their juices and most of the liquid has evaporated. Add the wine and cook scraping any browned bits from the bottom of the pan. Cook until all the liquid has evaporated. Sprinkle mixture with the flour and stir to coat.
Stir in the reserved mushroom liquid or vegetable broth and bring to a boil. Lower heat and cook for 30 minutes, stirring occasionally. Remove one cup of mushrooms and toss with parsley, set aside.
Puree the rest of the soup in small batches in the food processor or blender. Carefully! Retur to sauce pan and stir in cream and salt and pepper. Serve hot, garnished with the mushrooms and parsley.