New England Soup Factory's Creamy Wild Mushroom Soup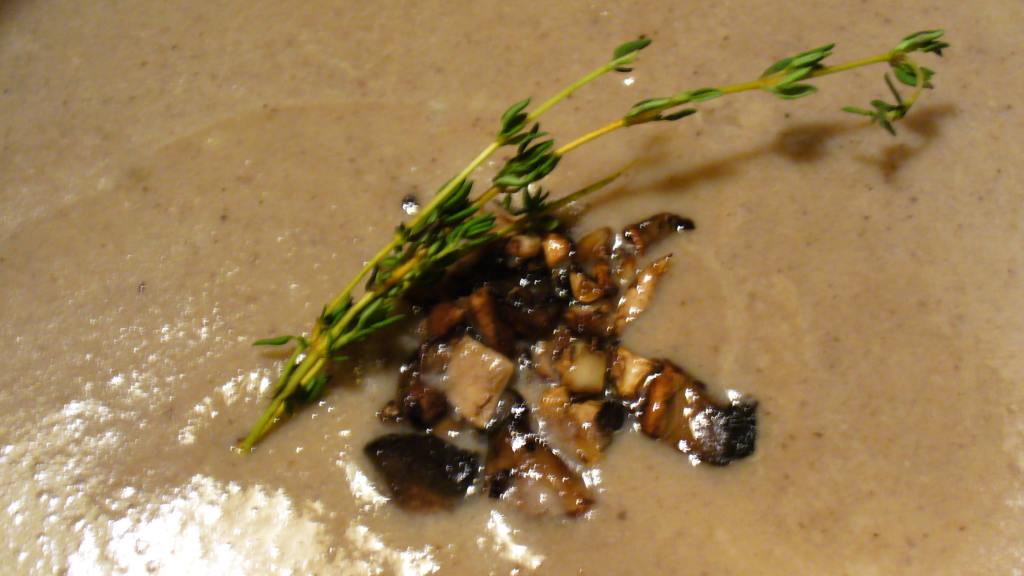 Ready In:

1hr

Ingredients:

15
directions
Melt butter in large stock pot and saute garlic, onions and celery for 5-8 minutes.
Slice all of the mushrooms together and set aside 1/2 cup for garnish.
Add the remaining mushrooms and potatoes to pot and continue to saute for an additional 5 minutes.
Add the stock; bring to a boil.
Simmer on medium-high heat until the potatoes are tender, approx 20 minutes. Remove from heat and add thyme.
Puree in blender, return to pot.
Add sherry, light cream, salt, pepper and worcestershire sauce, warm through.
Meanwhile, saute the reserved mushrooms in a little olive oil, and season them with salt and pepper.
Add the mushrooms to the soup and stir well.
Join The Conversation
I've notice the "needed something" comments and thought I would comment. I make a soup VERY similar to this. When I make it I add the garlic in at the end of the cooking of the onions and celery. I also add a little cilantro into the pot and at the end garnish with SMOKED paprika and fresh chives or green onion tops. The extra garlic flavor from cooking it with the other veggies enhances the soup as does the smokey paprika flavor in the end. Hope this helps those with the something needed. AF

 

This soup was pretty good, but as one other commenter had suggested I used a little bit of garlic powder which gave it more of a POP! Overall, I will make this again, but I still feel as though something was missing! I will try to fuss around with it a bit to see if I can figure it out! Thanks for the really nice recipe! Note: During the fall season most of these mushrooms are available in grocery stores. UPDATE: Tried making it again, good basic wild mushroom soup, but I still feel as though something is missing. Garlic powder and worchestire helped, but still. Something is missing. I know that this isn't your recipe in particular, but maybe if someone else is up to the challenge we can figure out what is missing!