Creamy Crock Pot Macaroni and Cheese
Parsley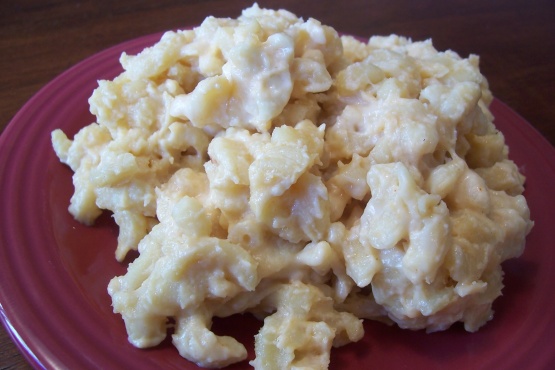 An easy, creamy mac and cheese recipe for the crock pot. No need to precook the noodles. Edited to add: I make this at least once a month without any burning or sticky mess. I know all Crock pots are different, because I have one that is "hotter" than the other. Perhaps a "hotter" crock pot is not suitable for this recipe.

Cooked on low for less time with more stirring and the noodles were a huge blob of sticky mess. Will never make again- huge waste of time and money. Would never recommend this- even tried to save it by taking noodles out- they were mushed into sauce didn't work. Nice idea- but did not work for me on any account.
Spray your crock pot (5 quart size or larger)with nonstick cooking spray.
Pour milk and cream into crock pot. Stir in flour to dissolve.
Add all remaining ingredients to crock pot and stir well.
Cover and cook on low for 2 1/2 - 3 hours, or on high for 1 1/2 hours; giving a stir about halfway through cook time, then again during last 10-15 minutes.
Stir again before serving. Add additional milk, if desired, to desired moistness.