Creamy Chicken & Cabbage Casserole
Chouny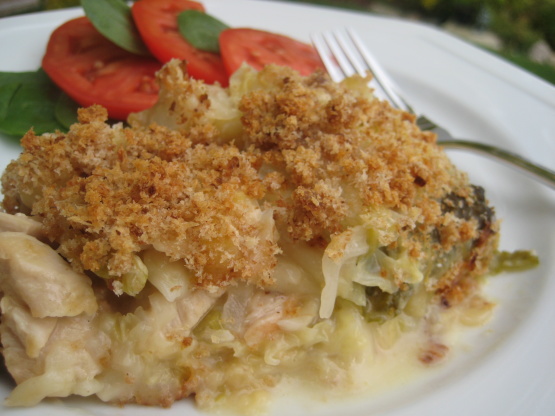 I was looking for a cabbage casserole without the tomatoes and adapted this recipe which has been gladly added to our favorites! The creamy cabbage with the chicken goes so well together... an absolute comfort food.
Boil cabbage in salted water for 5 minutes, drain and put aside.
Melt butter and oil in large skillet, brown chicken until golden.
Add onion and celery, continue cooking until vegetables are translucent, but not cooked through.
Add rice, chicken broth and wine, bring to a good simmer, cook until rice is tender, approx 15 minutes.
Prepare bechamel sauce as per indications on package, incorporate cream of chicken soup and milk, mix well, heat through.
Butter casserole, distribute half of cabbage in bottom of casserole, add chicken and rice preparation and put remaining cabbage on top.
Pour bechamel cream sauce over the casserole. Gently tap the casserole on the counter in order to spread out the sauce all the way to the bottom.
Cover with tin foil, cook for 30 minutes at 350°F.
Remove foil, scatter bread crumbs all over top and cook for another 10-15 minutes.