Quick, easy!
Make and share this Creamy Cheddar Fondue recipe from Food.com.
Directions
Heat cream cheese with milk in fondue pot or saucepan on low heat.
Stir until it is smooth.
Add in the cheddar cheese; keep stirring!
Let completely melt together; stir in the onion.
You may dip the French bread into the fondue!
Reviews
Most Helpful
I made this for a get together with some friends from church. I picked this recipe because it didn't contain alcohol. It was a huge hit! I doubled the recipe, sauteed the onion with a little garlic in a pat of butter and drizzle of olive oil, then used part milk, part 1/2 and 1/2, and used only 12 ounces of cream cheese adding in 4 ounces of velveeta, and adding a dash of Franks hot sauce. It was very thin when I took it out of the saucepan and put it in the slow cooker on low, but it was perfect within 30 minutes. For my first attempt at fondue, I was very pleased. Thanks for posting!

very delicious and easy...my teen and young adult kids loved it with a variety of dippers: french bread chunks, pretzels, chicken nuggets, hot dog chunks, celery sticks, red bell pepper chunks and cherry tomatoes. I had a fondue party for them for New Years Eve and it was a hit!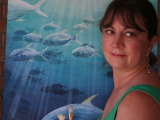 I had trouble with this recipe but maybe it was my cheese? It was very thick and really stringy. I added some milk to smooth it out. The taste was very rich. If I make this again I would definitely add a bit of garlic.