Shawn C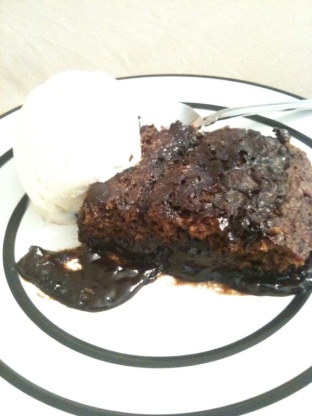 This cake makes it's own chocolate sauce. It's wonderful served warm with ice-cream.

I've made this twice now. The first time I made only half to test the recipe with BF, brother, and me we all enjoyed it very much. The second time I made it for Thanksgiving dinner. I added a little vanilla and served with vanilla bean ice cream and it was a hit. Thanks so much, will definitely be making this often.
In bowl, combine flour, baking powder, salt, sugar and the 2TBS cocoa.
Stir in milk and oil until smooth.
Pour into a greased 8in square baking pan.
Combine brown sugar and the 1/4 cup cocoa.
Sprinkle over batter.
Pour hot water over the top (do not stir).
Bake at 350* for 45 minutes or until cake springs back when touched.