gailanng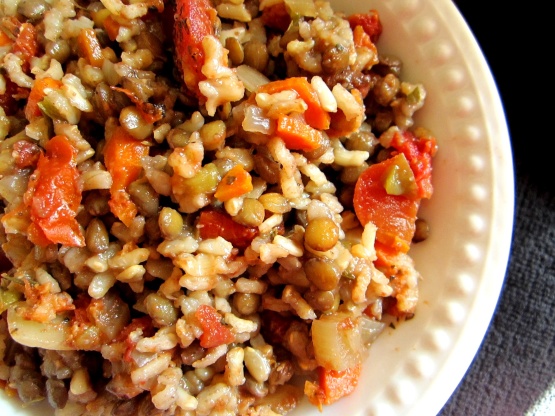 Very easy, healthy, frugal and most important, delicious! This recipe comes from "Everyday Light Meals" from Taste of Home. It is also good topped with a dollop of sour cream and some salsa.

I really enjoyed this recipe - SO simple, but flavorful and filling. It smelled so wonderful when it was cooking, it brought my neighbor over! (When I told him what was in it, he turned it down. What did he expect?!? A cheeseburger??!) I also love that I was able to make this recipe for about $5.00 - always a plus! Thanks, TexasToaster, for another great recipe. PAC Fall 2009.
In a 3 quart baking dish coated with nonstick cooking spray, combine the onion, carrots, lentils, rice, cheese, green pepper and seasonings. Stir in broth and tomatoes.
Cover tightly with foil and bake at 350°F for 1-1/4 to 1-3/4 hours or until the liquid is absorbed and lentils and rice are tender.