Joe B.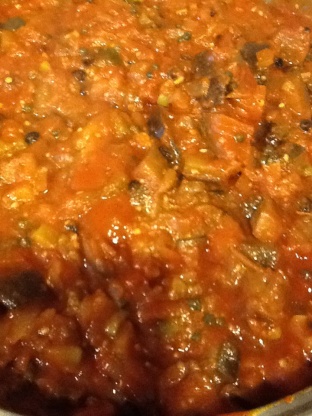 Posted in response to a request. I have not tried this recipe but it sounds really good!

This is without question a wonderful dish. The same taste as one I often have at an Italian Resteraunt in Oakbrook, IL.
Heat 5 Tbs olive oil in stockpot.
Add eggplant that has been cut into 1" cubes.
Stir fry 10-12 minutes until golden and touched with brown.
Add remaining oil, onions, garlic, and celery and stir fry 10 minutes longer until golden.
Mix in all remaining ingredients, cover, reduce heat to moderately low and simmer 1 hour, stirring about every 10 minutes.
Uncover and cook until very thick, about the consistency of chutney.
Prepare 3 pint sized jars.
Ladle caponata into jars leaving 1 inch headspace.
Wipe rims with a damp cloth.
Seal with lids.
Pressure cooker can pints at 10 pounds pressure for 30 minutes.