Brown Rice Salad With Zucchini, Beans and Dried Cherries
Rita1652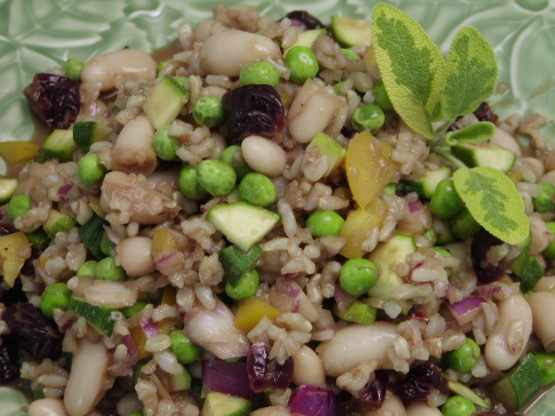 Different! But so good! This dish is so complete it has the protien, carbs, fiber and bursting with flavor!

I expected to enjoy this recipe as I really like all the separate ingredients but I'm afraid I didn't care much for the combination. I used 1T each of fresh sage, rosemary and thyme. The "leaves" and "sprigs" listed weren't very specific so I guessed. I found the sage totally overwhelming so I would recommend using far less than 1T. I would use less than the full recipe of dressing next time. It, too, overwhelmed the other flavors and made the salad a bit runny. The only change I actually made to the recipe is that I didn't rehydrate the dried cherries. I just couldn't make myself turn wonderfully chewy $10/pound dried cherries into juicy cherries.
1⁄2 cup zucchini, raw and diced
1⁄2 cup yellow pepper, diced
1⁄2 cup frozen green pea
1⁄2 cup red onion, diced
1⁄2 cup dried tart cherry, coarsely chopped (hydrated in 3 tablespoon hot water, Reserve the water for the dressing)

1

cup cannellini beans, rinsed

1

garlic clove, minced

1

cup cooked brown rice

3

leaves fresh sage, chopped (1 inch leaves)

1

sprig fresh rosemary, chopped (4-5 inch sprig)

1

sprig fresh thyme, chopped (same amount as rosemary)
salt and pepper

Dressing

1⁄4-1⁄3 cup balsamic vinegar
1⁄4 cup honey

2

tablespoons olive oil

1

teaspoon prepared honey mustard
Mix all of the salad ingredients together in a bowl.
Mix dressing ingredients in a blender using only 1/4 cup vinegar; taste to see if you want more, then proceed to add the rest of the vinegar.
I myself like the vinegar!
Add dressing to salad toss.
Chill for 1 hour, toss and serve.