Authentic Mexican Pozole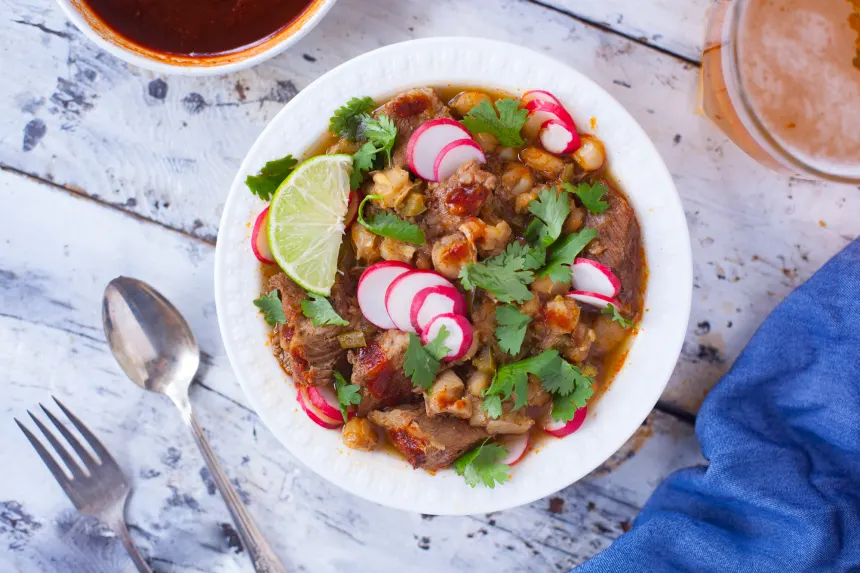 photo by DianaEatingRichly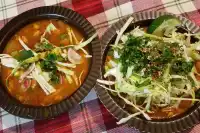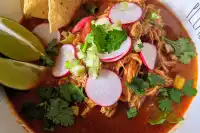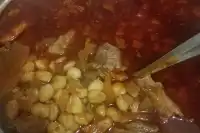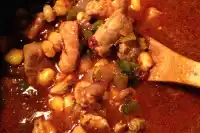 Ready In:

1hr 25mins

Ingredients:

17
directions
This recipe requires a simple prep.
Prepare the onion, peel the garlic, chop the onion, peel and chop the 2 garlic cloves, chop the green chilies and jalapenos if you are using them and get the hominy drained and rinsed.
I boil my ancho chilies in a separate small pot for the garnish part(read below).
Now you are ready to cook.
Place the meat in a large saucepan and just cover with lightly salted water.
Add 1/2 chopped onion, the 2 cloves peeled garlic, pepper, cumin, and oregano.
Bring to a boil over medium heat, skim off any foam that rises, reduce heat, cover and simmer for 45 minutes.
Remove meat and broth, reserving both.
Saute the remaining chopped onion and garlic in oil until translucent.
Add the remaining spices, stir for a minute.
Cut the reserved pork into 1 inch cubes and add to the pan.
Stir in the canned hominy, pork broth (if there is not enough pork broth, add chicken stock, I like to add it anyway for flavor, about 2-4 cups, eyeball the amount you like), green chilies and jalapenos (optional).
Cook at a simmer, covered, for 45 to 60 minutes until the meat and hominy are tender.
If necessary, cook for up to an additional 60 minutes until the chilies and onions are well blended into the broth.
Degrease the stew, taste for salt, and serve in soup bowls.
This is a delicious recipe and well worth the effort to make.

Garnishes that are always served with are:

lots of lime/lemon wedges.
sliced radishes.
chopped cilantro.
Shredded cabbage(not red).
fresh/ packaged fried corn tortillas.
When my ancho chilies are soft from boiling(takes about 15 minutes), then i put them in the blender with 1 1/2cups of water, 1 clove of garlic and about 2 tablespoons diced onion, and about 1 tablespoons of salt and pepper. I blend this thin, then strain it to get the liquid separated from its "pulp". I throw the pulp into the soup for the flavor i like but you can discard if too spicy for you. The remaining liquid you put in a serving dish for guests to add in their own bowl, if desired. Beware! It's HOT!
Questions & Replies

Reviews
This has been my "go to" recipe for authentic flavor and preparation! My husband is Mexican and I am always trying to recreate dishes her grew up with. One ingredient I always add to this is a can of green enchilada sauce. It adds a depth of flavor we love! I have made both rojo and verde style pozole but the verde is our favorite. Great recipe here!!!

 

"It tastes like in Mexico!" my kids said. Jalapeños alone gave enough heat for our taste. I recommend using lime, not lemon, if you can. Freshly squeezed lime juice makes a difference. In Mexico it was always served with lime. We used napa cabbage for garnishing. Definitely a keeper. It's exactly what we've been looking for. Delicioso.Thanks for sharing!

 

I make an authentic red pozole too. First by boiling 6-12 guajillo red chillis & removing the inside soft pulp to make a red broth. (Discard the tops & seeds first) I use a leaner pork loin sliced or 4-6 pork chops fried in olive oil & garlic powder. And a 26 oz. can of Goya white Hominy drained. 1 tbspn. Cumin powder, 4 tbsp. chicken boulion crystals, 2 garlic cloves, 1 sliced sweet onion. (use the Goya can filled up with hot water to measure the 26 oz. of broth.) A very big soup pot is needed. Serve with chopped green onion, celantro, & radishes on top as a garnish & toasted corn tortillas. So good! Serves many! & or lots for later.

 
Tweaks
My tweaked recipe = Much EASIER and just as yummy! (maybe not as authentic?) Also reduced the recipe to half. All I had on hand was boneless chicken leg and breast fillets, so used these instead of pork. Didn't have fresh garlic so used jarred minced from fridge...I also did not nor do i ever have, onion (hubby hates them anyway!), jalapeno or ancho chilis, all of which resulted in virtually no prep (gotta love that!!!), aside from draining and rinsing canned hominy. I also omitted black pepper and salt. I did use the optional 2 small cans diced green chili's because it adds great flavor. I added one 14.5oz can stewed tomatoes and 2 tsp Better Than Boullion chicken stock paste, which I believe makes up for the omitted salt...use cubed or powdered boullion if that's what you have, but I like BTB because there's no MSG in it. I put ALL ingredients in just one pot...no sauteeing, no reserving anything off to the side, no extra pans to wash. Boil then simmer for an hour. Scoop out cooked meat into bowl or plate, shred with a fork and knife, return to pot, stir a bit, then serve. Easy Peasy!!!

 

This was a delicious, full flavored pozole. My husbands mother always uses a combination of beef and pork, so that's what I did. And I cut up and browned down the pieces first, instead of cooking the meat in water. I also omitted the cayenne, because I knew I wanted to use the ancho chili pulp, which has so much more flavor. That way, each person can add more heat if they want. The only other change, is I let it sit in the crockpot for a couple hours instead of simmering it on the stove. The meat becomes so tender and the flavors really meld. It was delicious!

 

WE LOVE, and my honey actually likes his veggies (garnishes). subbed precooked pork, added the cumin and oregano with other spices. subbed 1 cup chopped jalapenos for the canned chilis. suated them wiht the onion and garlic. prefer the juanita's brand hominy. better flavor, texture, and less additives. used only 1/2 tbsp salt. for work lunches, chop garnishs sprinkle with lemon juice. when time to eat heat soup and dump veggies on top. use atleast a whole bunch of cilantro.

 
RECIPE SUBMITTED BY
This picture is Annette and I. Me in the blue. We're drinking Chavelas in Salinas California! Im always hungry!
View Full Profile