Black Beans and Kielbasa With Rice
J-Lynn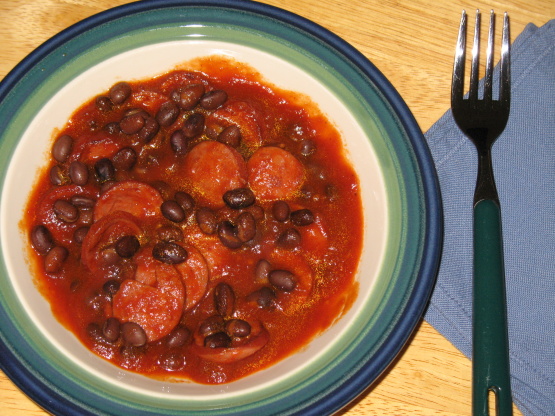 I got this from a Taste of Home recipe that was actually for chili. It looked good, but it took a lot of time to prepare. I had black beans on hand and not a lot of time, so I revised it and came up with this quick and simple meal. My husband loved it!

This was a great alternative to chili. I put in 8 oz. can of tomato sauce and a 15 oz. can of drained and diced tomatoes instead of 15 oz. of tomato sauce. I didn't add the salt and thought it was still a little salty. Maybe garlic powder instead of garlic salt next time. Very good! Thank you Laurie!
Drain and rinse beans. Place in pan. Add the garlic salt, Worcestershire and the chili powder; set aside.
In a large skillet, sauté the kielbasa until lightly browned. Remove and add to the bean mixture. Sauté the onion and garlic in drippings until tender; add the bean mixture back into the skillet. Stir in tomato sauce.
Cover and simmer for 15-20 minutes.
Stir in parsley, salt and pepper. Serve over hot cooked rice. You can cook your rice while your bean mixture is simmering.