Kree6528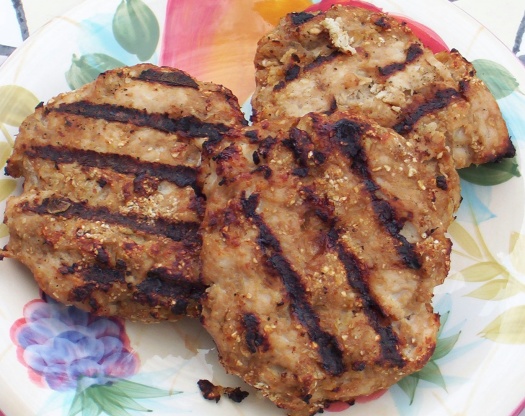 Nice flavors. I normally do not have to use an egg and breadcrumbs for these burgers. If your ground chicken is very dry or crumbly add an egg and a 1/4 cup of breadcrumbs. Nice served on a bun with lettuce, stir-fried beansprouts, teaspoon of soy sauce and sesame seeds. As a topping we use sour cream.

I took a risk and made these for a dinner party without ever trying them first because just the recipe sounded so good. They were a huge hit! My husband loved them...he gets bored of food very easily so it was nice to be able to impress him and the others. We used ground chicken and I found I had to use a lot of bread crumbs to get the texture firm enough to make a patty that would stay firm on the grill. I don't think it affected the flavor at all. I served it with a store-bought Wasabi Sauce from Silver Springs and a Lemon sauce purchased from a local Chinese fast food place. I accompanied it with an asian peanut noodle side dish and asian broccoli salad. Next time I won't add the bread crumbs and I will pan fry them to see if there's a difference. Thanks for a unique and healthy recipe--it's a keeper!
Heat the oil and fry the onion, ginger, garlic and chili for a 2-3 minutes, add the mushrooms for the last minute.
Set aside to cool.
Mix the ground chicken with all the other ingredients and the cooled onion mixture, shape into 4 or 6 burgers.
Fry them in some oil on a medium fire for several minutes on each side until done and browned.
Serve as suggested in the recipe-intro or use your own ideas.