American Blueberry Crumble
Sara 76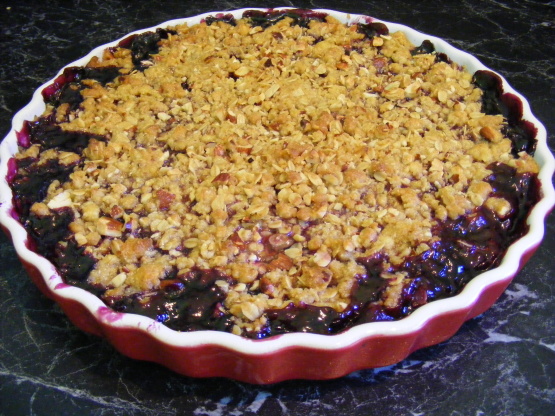 When asked for a good blueberry crumble I came across this with great reviews from Garen Zamarra on Foodnetwork. You can double the recipe, use a 9x13 pan, and increase baking time by about 20 minutes. Enjoy!

I did follow the list of ingredients & the directions right on down, & although I do love sweets, I did reduce the amount of sugar each time from 1/2 cup to 1/3 cup, & for our taste buds, that worked out just fine! A very nice tasting dessert, & one I'd be happy to make again! Thanks for posting the recipe! [Tagged & made in Please Review My Recipe]
Preheat the oven to 375 degrees F. Lightly butter an 8-inch square baking dish.
For the filling:.
In a bowl, add the blueberries, sugar, cornstarch, orange juice or apple cider, and vanilla, Carefully mix the ingredients together with a spatula, leaving the blueberries whole. Set aside while you assemble the topping.
For the topping:
In the bowl of a mixer, add the flour, sugars, and butter. Using the paddle attachment, incorporate the butter into the dry ingredients until the mixture looks mealy or crumbly. (This can be done by hand.) Stir in the oats and nuts.
Pour the filling into an 8-inch square baking dish and evenly distribute the topping over the fruit. Bake for 30 minutes, or until the topping is golden brown and the fruit is bubbling. Cool slightly and serve warm.