jonesies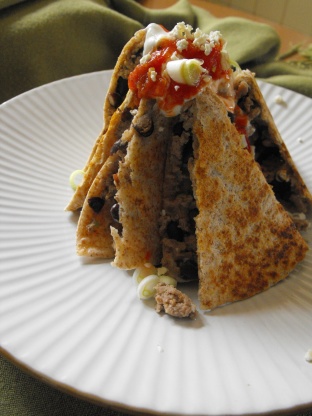 Picked this recipe up in one of the stores

These are so yummy and so good for you! Used gorganzola cheese, but otherwise stuck with the recipe as written. Served with sour cream and salsa. We actually made a batch and kept in the refrigerator for the teens in the house. Photo will follow after technical difficulties are ironed out. :-) Made for 8th Photo Swap.
Brown turkey and onion in skillet over medium heat 3 to 5 minutes.
Drain off fat.
Stir in black beans.
Spoon 1/4 cup of the turkey mixture on each half of each tortilla.
Top with 1/4 cup cheese.
Fold tortilla in half.
Spray large skillet with nonstick cooking spray.
Add 4 folded tortillas to fit in single layer.
Cook over medium heat 2 minutes per side or until browned.
Press down with spatula to flatten.
Cook remaining tortillas.
Cut each folded tortillas in half to form quesadilla quarters.