Prep 15 mins
Cook 20 mins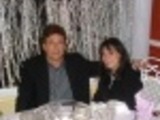 This is so easy to throw together. I have been able to get this on the table pretty fast when I've had unexpected company, and it is a big hit. I like to serve it over couscous or basmati rice. (Make sure you use unsweetened coconut milk, not sweetened coconut cream.)
Directions
In nonstick skillet, heat oil over medium heat.
Add onion and pepper; cook 5 minutes.
Add curry, ginge3r and salt; cook 5 minutes.
Add tomatoes and milk.
Bring to a boil. Reduce heat; add shrimp and cilantro.
Cook, stirring, until shrimp are opaque, about 5 minutes.
Stir in peas.
Serve over couscous or rice.
Most Helpful
DH and I made this shrimp curry for lunch today. It was easy to prep and came together quickly, which was very nice. We followed all ingredients and directions as posted and served over basamati rice. The flavor was nice and spicy. We like a lot of heat and this certainly didn't disappoint. However, we both thought that it seemed to be missing something. We played around with adding different spices to our individual bites to see if we could discern what was needed. Certainly a generous amount of salt. The closest we could come to fixing what we thought it lacked was to add cumin to it. All in all this was a nice lunch and it presented beautifully--very colorful. Made for Family Picks ZWT4.