Thai Chicken Curry With Pineapple
Prep 15 mins
Cook 35 mins

I love curry but I like it simple with lots of curry sauce. This is easy and delicious.
Directions
Heat oil in a large saucepan over medium heat. Add chicken and brown.
Add chicken broth, coconut milk, curry powder and brown sugar and bring to a simmer.
Add peas and simmer until chicken is just cooked through and peas are tender, stirring frequently, about 10 minutes.
Remove from heat, and stir in pineapple.
Mix in lime juice and add salt and pepper to taste.
Place a scoop of Jasmine rice in a bowl and spoon curry over the rice.
Serve with chopped cilantro garnish if desired.
Reviews
Most Helpful
This was very good. A nice comfort food thai meal. I added an onion to it and put thai chili sauce on top for some heat. I did think it was a little bland and added some salt in the end. It's a keeper tho with these few adjustments.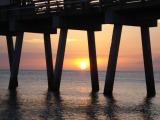 This recipe didn't turn out quite as expected, but it has a lot of potential, and I think with one small change it will be excellent. The 4 cups of chicken broth seemed like way too much - the sauce was the consistency of water - way too runny for what I'd like. Next time we're going to cut the broth down to 2 cups to make a thicker sauce. Other than that, we loved it! My 5 year old even liked it. We will definitely try this again. Also, we used Penzey's "Vindaloo" Seasoning instead of traditional curry powder. Just the right amount of mild spiciness.
This was excellent for a change of flavor.. I did change the proceedure, as I was worried I wouldn`t like it and didn`t want to ruin my chicken. I did the chicken separate in a casserole dish in the microwave. Was not keen on the coconut milk, So made the sauce in a microwavable dish, with a white sauce, and added a whole can of pineapple to it..I will also up the curry a bit. Cooked the rice in my rice cooker and added the frozen peas to it. Thanks for posting this great recipe...