Chicken Curry and Roti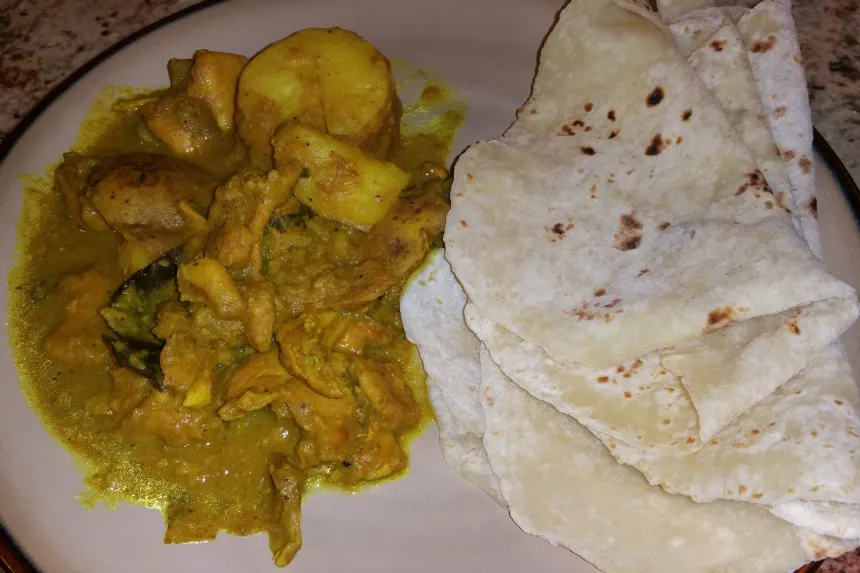 photo by pdogg1979

Ready In:

1hr 20mins

Ingredients:

18
directions
PREP:

Cut the chicken into bit size pieces. Add garlic and mix into chicken.
In a separate bowl mix all of the spices and curry powder together (but not the bay leaves). Slowly add spice mixture into chicken/garlic while mixing by hand to ensure even coverage. Set the mixed chicken aside to sit for a while while you make the Roti.

ROTI:

Boil water and let the water cool until you can handle it with your hands (you'll be kneading the Roti dough).
Mix 4 cups of flour with the salt and then add the hot water until it is moist but not sticky. You want the consistency of a flat dough that will be rolled out using a wooden rolling pin.
Take a little more than half a stick of room temperature butter and add it to the flour and water mixture. This will keep the dough from sticking to your hand and itself.
Use judgment for rolling consistency. Flour flat surface and rolling pin and form dough into balls. Roll balls out to flat and thin consistency, about 6-7 inches. Heat up your frying pan to medium-high heat.
(Note: Sometimes, I do this using two pans to make it go faster). Take a paper towel and use oil to rub onto pan before each roti that you cook. The roti will form small brown spots on each side when done. Do not overcook, it should never be stiff. When done in the pan, put on a plate lined with paper towels and cover with a dish towel to keep it warm.
After my Roti is done, I begin with the curry -- although you can always do both at the same time too.

CURRY:

Pour just enough oil to cover the bottom of a large pot. Place 4 bigger bay leaves into the pot and warm oil on medium for a few minutes (before the bay leaves turn brown).
Turn heat to high and add chicken. Cook at high heat stirring every minute for 10 minutes, then turn to medium/medium low heat. Use your judgment when cooking at high heat because you don't want the chicken to stick or burn. If the pot is lacking any liquid from the high temperature, add small amounts of water or chicken stock. As the chicken cooks longer, the juices are released. Use your judgment.
5 minutes after turning the heat from high to medium/medium low, add the cubed potatoes and eggplant. When potatoes are done, the curry is done. Make sure the eggplant is dissolved into the curry.
You're all finished! Use the curry to scoop up your meal; no silverware required!
Questions & Replies

Got a question?
Share it with the community!
Reviews
This was so tasty. I omitted the cumin and didn't have any bay leaves but it still turned out beautifully. My kiddies gobbled it all up! (that's why I omitted the cumin, for them) I did add about a cup and a half of water to the cooking mixture to create an au jus worth mopping up with the roti which I made from another recipe. Thx for the great recipe pdogg! :) — Feb 22, 2006 Edited to say that instead of adding water I covered the pot for the final simmer and the "au jus" turned out beautifully, thx again!

 

Made this, loved it, the only change I made was I added a small hot pepper to my chicken curry. I love spicy food. I used to eat roti as a child and missed it. This was easy to follow. I was able to freeze some roti for later use. You can heat up the roti in a microwave for approx 1 min. It comes out nice and fresh. Thanks for sharing this delicious recipe.