Linda M.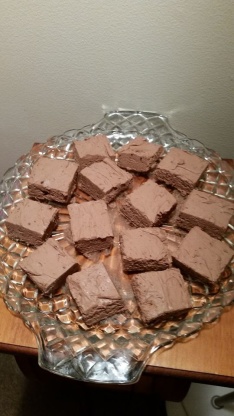 Posted from an online source in response to a recipe request. Needs refrigeration because it's really more like a chocolate cream cheese than it is traditional candy.

Too overwhelming a cream cheese flavor. It did not set up properly. Consistency was gooey. No chocolate flavor, and no sweet flavor. Was very disappointed in the recipe..... Maybe, more chocolate & splenda.... Less cream cheese.... ??? I don't know.... This recipe needs A LOT OF WORK!
Beat the cream cheese with melted chocolate, sweetener, and vanilla until smooth.
Stir in nuts.
Pour into 8" square foil-lined baking pan.
Cover and refrigerate overnight.
Serve chilled.