Pam-I-Am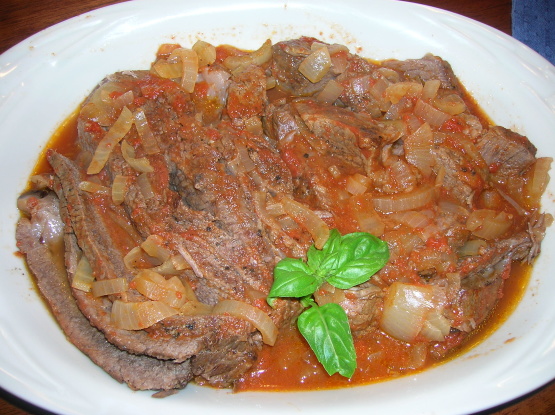 This is the only way I make my Chuck roast...it always turns out perfect every time..... of course, this recipe can be used with any cut of roast. Note: plan ahead, this roast needs to marinate overnight.

This has a tangy, tomato and onion flavor to the sauce. A nice light flavor (after the fat is removed). It really smelled great while cooking. I put in the amount of garlic stated in the recipe, but my cloves were medium size...could have used more garlic flavor. I'd recommend use nice large cloves or more medium ones.
Combine first 3 ingredients in a shallow dish; (fresh minced garlic may be added to the marinade at this point), add roast cover; marinate in the refrigerator overnight.
Remove from the fridge.
Remove roast from marinade (reserve the marinade).
Place roast in a Dutch oven.
Brown the roast in oil on all sides.
Combine the reserved marinade and all other remaining ingredients; pour over roast.
Cover and bake at 350°F for 2-1/2-3 hours, or until roast is tender.
Skim off the fat.
Serve sauce with roast.