Parsley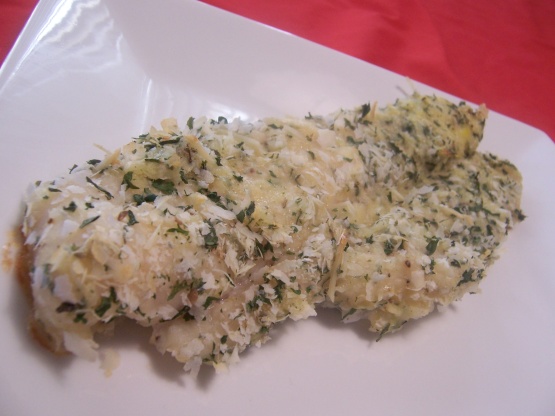 An easy baked fish recipe. Coating gets a little crunchy.

I'd give it a 5 but this recipe lacks oil or butter which makes the coating crispy in oven and not a dry flaky mess. I have made this for 30 years but I mix with Panko and you must give them a healthy spray or drizzle of butter or oil on both sides after breading. Otherwise they do not taste right and the texture is not that good.
Preheat the oven to 375°F Lightly grease a 13" x 9" (or larger) baking dish.
Combine salt, pepper and flour together in a shallow bowl. Set aside.
In a sperate shallow bowl, combine potato flakes, parmesan cheese, parsley and garlic powder.
Dip each fish fillet into flour mixture, then dip each into beaten eggs, then coat each with potato flake mixture.
Arrange in a prepared baking pan.
Bake, uncovered at 375 until golden and flaky, about 20 minutes.