Olive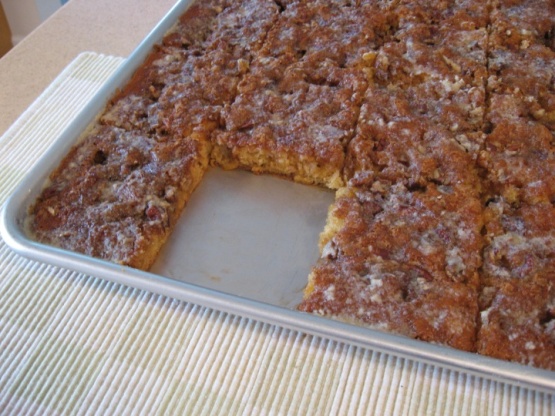 Here is a cake for your sweet tooth. I got this recipe from a co-worker in the 1970's. It is a rich, moist and delicious sheet cake. Serving size varies.

I made this for PAC Spring '09. I didn't use the 1 cup pecans because my husband doesn't like them. This is very good similar in taste tp pineapple upside down cake but easier to make.
Preheat oven to 350 degrees.
Grease a jelly roll pan.
In a large mixing bowl, mix together the eggs and sugar.
Add the flour, soda, and pineapple; mix well. Pour batter into the greased jelly roll pan; set aside.
In a small bowl, mix together the brown sugar and nuts.
Sprinkle on top of the unbaked cake.
Bake for 20-25 minutes.
When cake is done, remove from oven and pour on the topping while the cake is still hot.
To make the Topping:.
In a small saucepan over medium heat, combine the butter, sugar, & evaporated milk and boil for 2-3 minutes.
Pour on cake while cake is still hot.
Cake is good warm or cold.