Pamela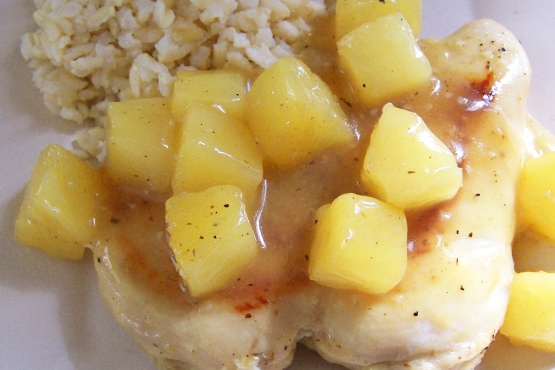 I got this recipe from Taste Of Home years ago and it was a family favorite for a long time. For some reason I had not made it in forever. We got back from Hawaii and I wanted to make a dish commemorating the trip and remembered this recipe. I made it and it was as delicious as I remembered. I hope you all enjoy it as much as we do!
Sprinkle chicken with thyme, salt and pepper.
In a skillet, brown chicken in oil. Meanwhile, drain pineapple, reserving the juice.
Cut pineapple rings in half and set aside.
Combine cornstarch and 2 tablespoons juice until smooth; set aside.
Combine mustard, honey, garlic and remaining pineapple juice; mix well.
Add to pan; bring to a boil. Reduce heat; cover and simmer for 15-20 minutes or until chicken juices run clear.
Remove chicken and keep warm.
Stir cornstarch mixture and add to pan; bring to a boil. Boil and stir for 2 minutes.
Return chicken to pan. Top with pineapple; heat through.
Serve over rice.