sauceuse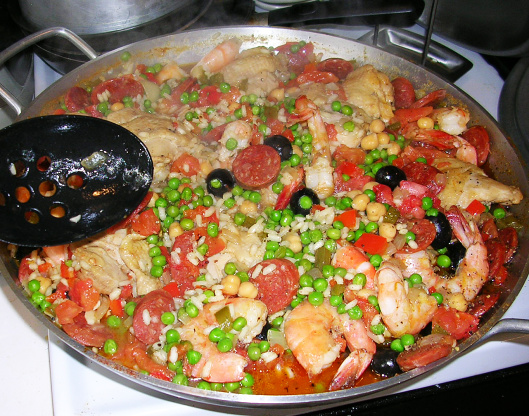 A whole rice dinner in one pot, Spanish style, that's the paella, and a hearty, savory family or party dish it is, too. You can put anything into a paella you want, as long as you have rice, saffron, garlic, and paprika for your base; the trimmings can be chicken or rabbit or fish, lobster, snails, mussels, sausage, or even squid. But the key to its success is the rice, which must be perfectly cooked, with the grains separate and slightly al dente--and for success you need either the fat Italian rice, the short-grained Spanish rice, or "converted" rice. This recipe is from Julia & Company. Don't even try it without a paella pan. :)
1

lb fresh chorizo sausage or 1 lb Italian sausage or 1 lb fresh pork sausage

2

tablespoons olive oil

1

cup sliced onion

1

cup sliced green bell pepper

1

cup sliced red bell pepper

8

chicken thighs or 8 chicken drumsticks (I use bone-in, or more)
1⁄2 cup dry white wine or 1⁄2 cup vermouth

3

cloves minced garlic (I tend to use more)
4 1⁄2 cups good-quality chicken broth
1⁄2 teaspoon saffron strand

1

teaspoon paprika
1⁄4 teaspoon ground coriander

1

bay leaf
1⁄2 teaspoon thyme
1⁄2 teaspoon oregano
salt and pepper

Finishing the Paella

2

cups imported Spanish rice or 2 cups italian rice or 2 cups converted rice (Julia suggests Uncle Ben's; I use arborio)

16 -24

raw shrimp, in the shell

3

medium tomatoes, peeled,seeded,juiced,and roughly chopped

2

cups fresh green peas or 2 cups diced fresh green beans, blanched 5 minutes

1

cup chickpeas, fresh cooked or canned (I use black beans)
1⁄2 cup black olives, pitted

2

lemons, quartered
Prick sausage in several places with a pin and place in a paella pan or electric skillet with 1/4 inch water; cover and simmer slowly 5 minutes, then drain, discarding liquid.
Cut sausage into 1/2-inch pieces and saute' in pan with the oil until lightly browned; stir in onions and peppers.
Cover and cook slowly until vegetables are tender.
Remove with a slotted spoon, leaving fat in pan.
Dry chicken pieces in paper towels, heat fat in pan, and brown chicken on all sides.
Drain fat out of pan, add the sausage and vegetables, then the remaining ingredients.
Cover and simmer slowly for 15 minutes--chicken will be one-half to two-thirds cooked, and will finish later, with the rice.
(May be cooked in advance; bring to the boil before proceeding.) About half an hour before serving, bring chicken and sausage to the rapid boil on top of the stove.
Sprinkle in the rice, mixing it down into the liquid with a spoon.
Boil rapidly 5 to 6 minutes, uncovered--do not stir the rice.
When it has swollen and begun to rise to the surface, rapidly push the shrimp, tail end down, into the rice; strew on the tomatoes, peas or beans, chickpeas, and olives.
Again, do not stir, simply push these ingredients down into the rice with a spoon.
Carefully correct seasoning.
Reduce heat and let paella simmer for another 8 to 10 minutes, or more, uncovered, until rice is just tender--slightly al dente.
(It is best not to cover the pan, but if you feel the rice is not cooking properly, cover for a few minutes, sprinkling on a few tbsps. or so of stock or water if rice seems dry; then uncover to finish cooking.) At the end of the cooking, the rice will have absorbed the liquid.
Serve the paella from its cooking pan, and decorate with the lemon quarters and parsley.
Note: When finished cooking, I will cover and let sit for 5-10 minutes before serving.