katii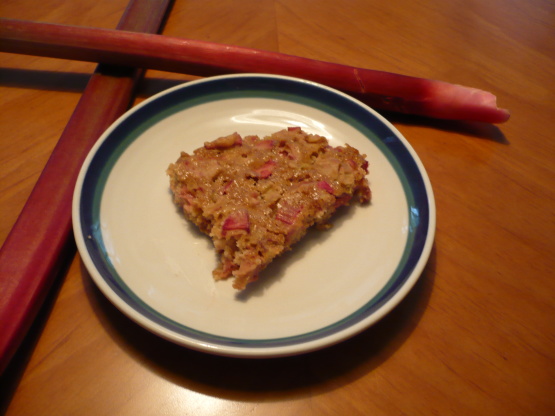 For those of us who do not "do" pie crusts, this is for you. Really easy to do. Serve with ice cream or whip cream and you've made a pie!!!

Wonderfull rhubarb pie!!! without all the fuss and muss and not too sweet!! Didn't change a thing, we loved it!! with a blurb of sour cream to top it off, a keeper Tebo!! thanks for sharing. UPDATE: Couldn't resist tellin you Tebo, I keep getting requests for the "big rhubarb cookie"!! They really love it and it's so easy and quick Thanks again!!
Sprinkle sugar over rhubarb in medium size bowl.
Sift flour, baking soda and cinnamon over top.
Mix in nuts, egg and vanilla until well combined.
Spread on a greased 8" pie plate.
Bake at 350 for 25 to 30 minutes.
Serve warm.