Meatloaf Rolled With Ham , Cheese & Shrooms
Rita1652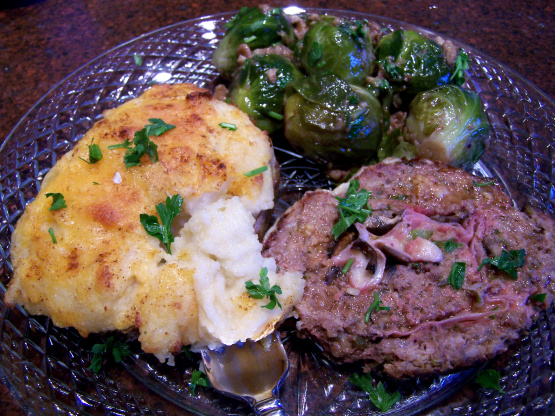 Sauteed mushrooms, ham and cheese are rolled inside the seasoned meat mixture. Be sure to have the ham sliced thin it just there to lend a touch of smokiness. Makes great leftover sandwiches with a touch of ketchup.

This was an absolutely incredible meatloaf, juicy and full of flavour - I think the ingredient that made this different and better than other meatloaves was the green pepper. It definitely added something. This will be made over and over again...
Preheat oven to 400'F.
Lightly oil a 9x5x3" pan.
In a large bowl, combine the meatloaf ingredients, adding more bread crumbs if necessary, a tablespoon at a time, to make a firm loaf.
Try not to over handle.
Place the meat mixture on a large piece of plastic wrap, and form into a about 12x8" rectangle.
Arrange the sauteed mushrooms on top of the meat, then ham leaving a small margin around the edges.
Layer on the cheese on top of the ham slices.
Starting from the short end, carefully roll the meat mixture jelly-roll style.
Seal the edges and ends.
Place the loaf seam side down in the prepared pan.
Bake 1 hour or until done.
Sprinkle the top of the meatloaf with grated cheeses.
Bake 10 minutes more.
The center of the loaf will be pink because of the ham.
Remove from oven and let sit for 15 -20 minutes letting the juices absorb back into the loaf.
Slice with a serrated knife.