teresas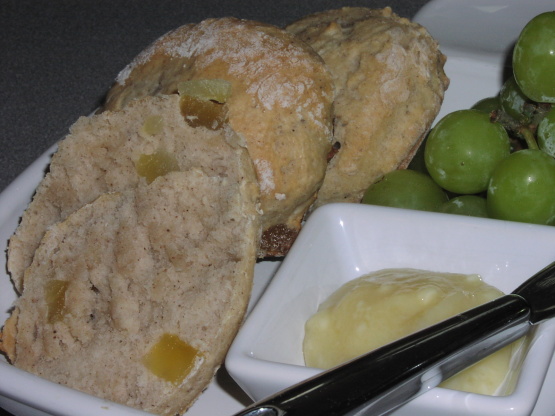 A home-baked goody that is scrumptious served with a fresh pot of tea or coffee for a leisurely weekend breakfast. Come to think of it, these scones are so quick and easy to put together that they could be part of a 'special' breakfast any day of the week. You decide.

I love scones. I love dried mango. And in this recipe I loved the combination of both. Because of the inclusion of cream and yogurt, I didn't find this dry at all, which most scones are prone to. Not this one! It made for a light breakfast, with strawberry jam.
473.18

ml flour, plus additional flour for kneading

59.14

ml sugar

14.79

ml baking powder

3.69

ml salt

3.69

ml allspice

2.46

ml cinnamon

236.59

ml dried mango, chopped into dice the size of raisins

226.79

g Greek yogurt

118.29

ml 10% cream, plus extra to brush on scones

Sweet Buttery Topping

59.16

ml butter, softened

29.58

ml corn syrup (light or dark)
Preheat oven to 375 degrees F.
Combine flour, sugar, baking powder, salt and spices in a large mixing bowl. Mix with a fork. Add mangoes and stir to coat with flour.
Combine yoghurt and cream and mix into flour mixture with fork until dough becomes thick and hard to stir. Using hand, knead the sticky dough in the bowl, turning and pressing the dough to incorporate the flour. Add more flour if you need it, a tablespoon at a time, until surface of dough is smooth, soft and no longer sticky.
On a lightly floured surface, flatten the dough with your fingers to a 1/2 inch thick and, using a water glass, cut out circles from the dough mixture. Gather scraps and repeat until all the dough has been used.
Place scones on ungreased baking sheet, leaving some room in between for them to rise as they bake, and brush lightly with some of the 10% cream.
Bake 15-20 minutes, or until scones are golden brown. Serve warm with Sweet Buttery Topping.
To make Sweet Buttery Topping: Beat topping ingredients together and pack into a pretty ramekin to serve. Refrigerate slightly if too soft.