Prep 15 mins
Cook 20 mins

These are sunny, bright and FULL of amazing lemony flavor! Are are 100% vegan! From: Veganomicon, The Ultimate Vegan Cookbook. This recipe uses rice milk for the cakes and soy milk for the frosting. I have made them using soy milk in BOTH, and they turned out just fine!
Directions
Preheat oven to 350°F.
Line a 12 muffing tin with paper liners.
Sift together flour, baking powder, baking soda, and salt.
In a separate bowl, combine oil, sugar, rice milk, vanilla, lemon juice, and zest.
Pour the dry ingredients into the wet and mix until smooth.
Fill each muffin tin about 2/3 full.
Bake cupcakes for 17-20 minutes.
Remove cupcakes from muffin tin, and place on wire cooling rack.
Frost when fully cooled.
For the frosting: Beat the margarine with a hand mixer until fluffy.
Stir in soy milk and lemon juice.
Add confectioners sugar and mix until smooth.
Frost cupcakes.
Reviews
Most Helpful
hey, just made these. i had a terrible time with the frosting. it was way too runny, i used about 5 cups of powdered sugar, still pretty thin, but i used it to frost them. they're in the freezer now, trying to firm up. looking forward to tasting them, i love lemon! i will eliminate the milk in the frosting next time..
and, when i did make these as cupcakes a few different times, they were TOO DIE FOR!!! i & my fam (none of whom are vegan) are HUGE lemon fans & these were INCREDIBLE!!!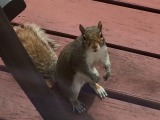 THIS WAS TERRIBLE. Me and my friend made them and they were dry, bland and needed a lot more sugar they were so bitter