Julienne of Veal/Poultry/Pork (Microwave)
Sageca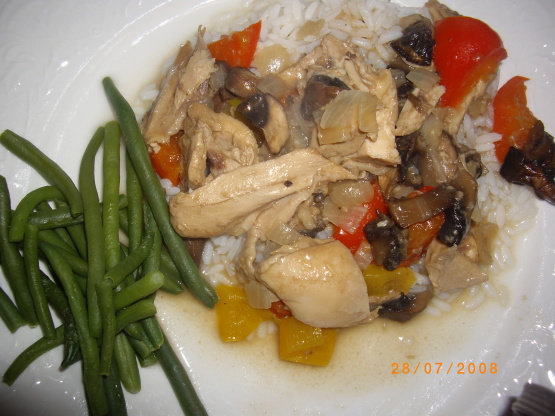 The original recipe called for raw veal. I have changed it to use leftovers, add color and create more sauce. The fun here is that you can use other spices or herbs in place of nutmeg, add more veggies, whatever suits.

What a clever idea!!! I never even considered making a bechamel sauce in the microwave. You are a genius. I made this tonight to start to use up my left-over turkey from Thanksgiving. So quick and easy. I honestly don't know about the ounces I used... the mushrooms (I had a handful), the bell pepper (about a quarter of one) and the turkey (enough that I thought would feed hubby and I). I served this with extra-wide egg noodles (that were boiling as I made this). We really enjoyed this quick dinner. Thank you for posting. (Made for PRMR)
29.58

ml butter

1

green onion, sliced (green and white parts)

113.39

g mushroom, sliced

56.69

g red bell peppers, julienned

170.09

g cooked turkey (turkey, chicken, veal, or pork all work) or 170.09 g cooked chicken (turkey, chicken, veal, or pork all work) or 170.09 g cooked pork, julienned (turkey, chicken, veal, or pork all work)

22.18

ml all-purpose flour

59.14

ml dry white wine

78.07

ml half-and-half or 78.07 ml cream
salt and pepper, to taste
nutmeg, to taste
hot cooked noodles or hot cooked rice
minced fresh parsley (optional)
In a microwave safe casserole or baking pan, place 1 tbl. butter. Microwave on High for 30 seconds. Add the green onion, mushrooms, and bell pepper, stir, and microwave on High for 3 minutes, stirring once.
Add the julienned meat, and cook an additional 2 minutes, stirring once.
With a slotted spoon, remove all the solids from the pan and set aside. Pour the juice into a measuring cup and add enough water or broth to make 1/2 cup.
Put 1 tbsp butter in the pan and stir in the flour completely. Cook for 1 minute on High. Gradually whisk in the juices, wine and half-and-half or cream. Return to the microwave and cook for 3 minutes, stirring after each minute.
Stir in the meat and veggies, add a couple of gratings of whole nutmeg, and salt and pepper to taste. Cook on High for 2 minutes or until heated through.
Serve over hot noodles or rice. Sprinkle with minced parsley, if desired.