Rita1652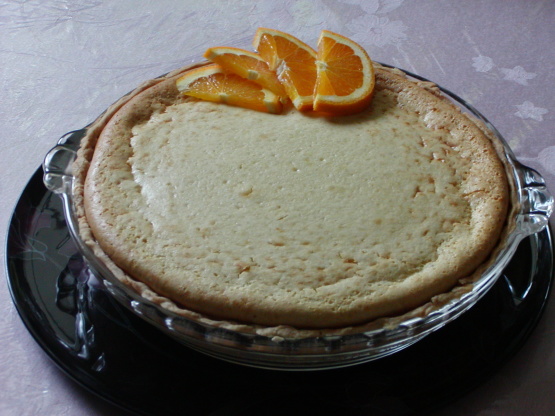 This is an old Italian recipe that is usually made for the holidays, particularly for Easter, but is good any time of the year. Note that baking time is actually 1 hour and 20 minutes. When I enter that in the cook time, it comes out as a crazy fraction.

Ok I cheated and used my favorite store bought pie crust. This was very good. I served it cold. But I think this would be good warm out of the oven. I was dying to try it right out of the oven but I was bringing it to someones house the next day wouldn`t look good with a slice missing. I used vanilla Flavored Sugars recipe #53926 and fresh ground cardamom. I garnished it with orange slices. If I had time it would have been candied orange slices. Yummy!
To make crust, mix flour and salt in medium bowl.
Cut in butter until mixture looks like coarse crumbs.
Stir in egg yolk and water.
Roll out, place crust in 10" glass pie plate and flute the edges.
For filling, combine ricotta cheese, flour, salt, lemon and orange rinds and vanilla.
Beat in eggs and add sugar gradually.
Pour filling into crust and bake at 350° until firm and light brown (approximately 1 hour and 20 minutes).