Catnip46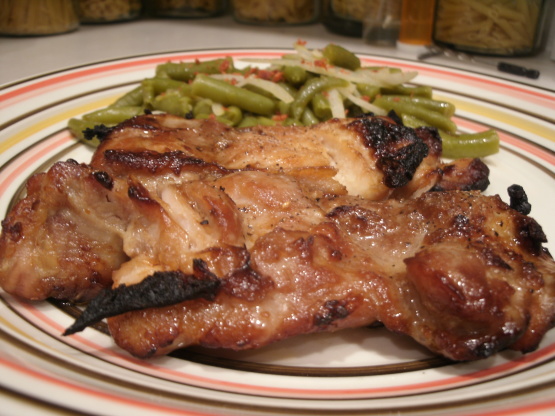 I love recipes that are easy and tasty and can be prepared ahead. This fits the bill very nicely because the chicken is par-boiled and just needs to be grilled to crisp it up. We take this camping because it is so convenient. Prepare the chicken at home the night before and grill it when you arrive at the campground. It has been a family favorite for years.

This was very good. I made this under the broiler. The chicken was moist and very tender. My only regret was not making two batches of the marinade. I put my chicken in the marinade half frozen so there was a lot of blood that bled into it and after marinading all day I was not about to use that marinade as a dipping sauce. The marinade tasted very good so next time I will slightly thicken the 2nd batch of marinade for a dipping sauce.
Made for Chef Alphabet Soup game.
Heat soy sauce and sugar together until sugar dissolves.
Remove from heat and mix in ginger, garlic, onions and sesame oil.
Meanwhile, par-boil the chicken until almost done.
Drain chicken and cool slightly.
Pour marinade in a zip-lock bag or marinade pan.
Add chicken and marinate overnight, turning occasionally.
Grill until heated through and skin gets a little crispy.
Remaining marinade can be boiled and served with the chicken.
The chicken can also be broiled in the oven.