Peter J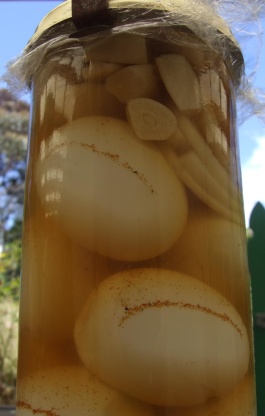 Plan ahead these eggs need to chill for at least 7 days before using, that is if you can wait that long, these are sooo good! Use beet juice or water, if you like extreme garlic flavor then add in another few cloves, the cayenne is optional I like to add it in for some heat, if you are using add it into the beet juice mixture.
Place the peeled eggs and onion slices in a 1-quart glass jar.
In a saucepan bring the beet juice or water, vinegar, salt, sugar and garlic cloves; bring to a boil stirring for a couple of minutes until the sugar and salt is dissolved; remove from heat and let cool (about 30 minutes).
Pour the vinegar mixture over the eggs and cover tightly.
Refrigerate for 7 days before using.