Extra Creamy Rice Pudding
Annacia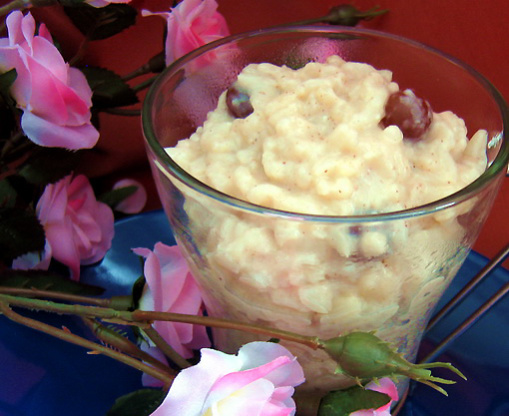 Italian-style or Arborio rice is the best to use for this recipe, it will produce the creamiest texture. This is best if eaten warm! Prep time does not include cooking the rice.

I made this as directed down the line for my DH who loves rice pudding. His only "helpful" comment was that it could use more sugar but he's really a sweet lover. This makes a huge amount, I made a 4 serving amount using 2 cups of rice and there is at least 8 servings. I was out of golden raisins so just used a handful on the dark ones. If you are, or have, a rice pudding lover don't miss this one.
In a heavy-bottomed saucepan stir together sugar with milk, cream, cooked rice, vanilla and cinnamon; bring to a boil uncovered over medium-low heat, stirring often.
Reduce the heat to low and cook uncovered, stirring occasionally especially as it thickens for about 15 minutes.
Then lightly stir in eggs; continue cooking stirring often until the mixture thickly coats the spoon and the rice is very soft (about 10 minutes).
Stir in butter (if using) and raisins.