Creamy Brown Rice Pudding
photo by Katzen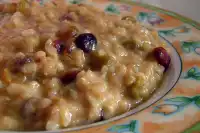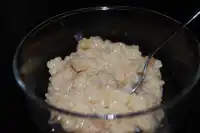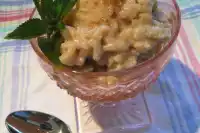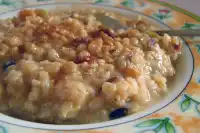 Ready In:

28mins

Ingredients:

6
directions
In medium saucepan, combine rice, milk, syrup [& raisins, if including them], & bring to boil.
Reduce heat & simmer 20 minutes, stirring frequently.
Remove from heat & stir in butter & cinnamon.
If desired, garnish with additional cinnamon.
Reviews
This is a pretty good recipe, simple and the kids like it. For me it was WAAAAY too sweet. I had to add more rice and milk after starting this batch with the recommended half cup of maple syrup. In the end I made a double recipe without adding more syrup and that was better. I also used far less raisins than the recipe calls for. I guess it depends on how much you like raisins. My other tweak to this one was I used salted butter and added about a tsp of salt. It was too bland without it.

 

Awesome recipe with a few changes! I only used a little less than 1/4 cup maple syrup and tossed in about a 1/2 tablespoon of brown sugar. I upped the spices to my liking because it was a little bland. Because it was already so creamy, I only put in a teaspoon of butter. I also added a cup of chopped dates along with the raisins (I only put in a 1/2 cup of raisins.) It came out delish. Side note: long grain brown rice actually has a lot of valuable nutrients and protein, so if you cut back on the sugar and butter, this is a pretty healthy breakfast option. (On occasion;)

 

Love this recipe its cooling down as I type this. I taste tested it already. Going to give it to my son for a treat tonight. I added a pinch of salt, cooked it with rice milk(my son is allergic to cow's milk) and 1 mushed up banana as well and it went along nicely. I added about 3/4 the maple syrup and it seems fine. I'll sprinkle a little brown sugar on top for extra sweetness if needed. Thank you I've never made rice pudding before and it turned out great:)

 

I had a small container of brown rice from Chinese take-out that measured two cups. Used 1/4 cup of Sugar in the Raw as the sweetening agent, one small "lunchbox" size box of organic dark raisins, non-fat Lactaid milk, and added some vanilla extract. Cooked for 15 minutes and stirred frequently, as suggested, which took care of the film that developed across the top of the mixture. Forgot to add the butter and cinnamon and ate half of it still very warm instead of dinner. Very good. I'll add cinnamon to the rest and find that butter is totally unnecessary. It really is creamy!

 
Tweaks
Used calrose brown rice (wonderfully chewy with nutty flavour), organic unsweetened soy milk, creamed honey, 1 cup sultana raisins and cinnamon. Personally, I found this recipe quite sweet; I ended up adding an extra 1 cup of soy milk and 1 cup rice. I would also cut back on the raisins, unless you like lots of raisins :) I think this recipe would be great as is, but definitely cut back on the sweetness! All in all, tasty recipe!

 

I was so excited when I found this recipe - I don't each much white rice, as I'm much more fond of the healthier brown stuff! I made this with two small changes: following the reviews, I used 1/4 cup of maple syrup, and instead of dark raisins, used 1/2 cup each of golden raisins and dried cranberries - both heaping 1/2 cups in honour of Syd! This turned out wonderful! It would make a healthy and delicious breakfast - which is what we're planning to use it for. Thanks for another wonderful recipe, Syd! Made for PRMR Tag.

 

I discovered this while searching for a way to use up a huge batch of cooked brown rice. I am so glad I did. This is a wonderful dessert and so easy to make! I substituted 1/4 cup of agave nectar for the honey. Next time I will use even less, because with a cup of raisins, it was almost too sweet. I look forward to experimenting with additional add-ins to boost the nutrition. (Slivered almonds, chopped walnuts, canned pumpkin, and flax seeds come to mind.) Thanks so much!