Edamame (Soy Beans) and Onions
Bergy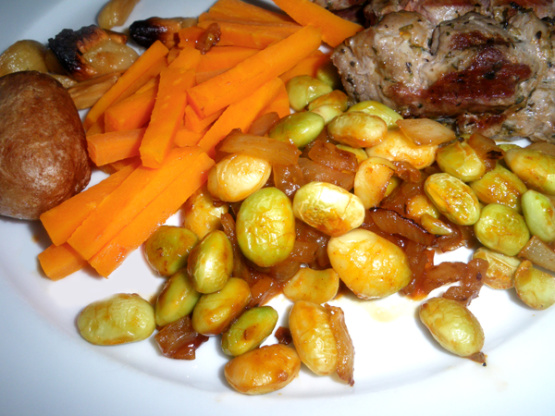 This is a very tasty vergetable - I used ready shelled frozen and they were so easy to prepare

This was almost too easy to make. I decided to cook my onions in a little water and once They were done and the edamame added, I added some black pepper, hot sauce and red pepper flakes. I was making Recipe#331238, so I cooled the beans and topped my salad with these. It gave a lot of flavour to my salad. Thanks for the recipe.
250

g shelled frozen edamame

1

cup sweet onion, Chopped
cooking spray
Bring 3 cups of water to a rapid boil.
Put the frozen Edamame into the boiling water, return to boil & cook for 4 minutes, drain and set aside.
Lightly spray a skillet with oil , medium heat, fry the onions until they are golden Apprx 10 minutes.
Add the beans, mix with the onions and continue cooking for apprx 5 minutes or until they are heated through.