Parsley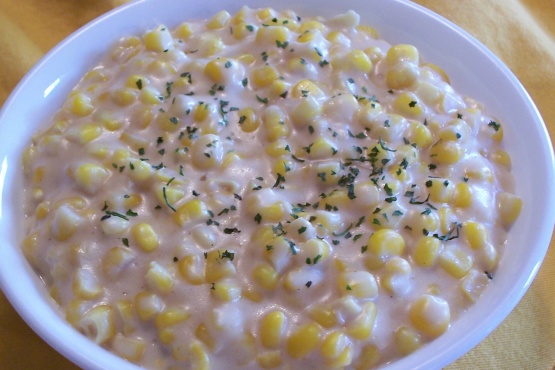 This recipe is from a neighbor. I added onion to it, but you can leave it out. It's a nice way to use all the fresh corn in the summer. I got a little freaked out by all that half and half cream, so I sometimes evaporated milk instead of half and half....or even half of the half and half and the rest 2% milk. But if you want the truly rich taste, you know what to do. ;)
Blend together half and half, bouillon cube, pepper, sugar, and minced onion in saucepan. Bring to a boil.
Add corn to boiling liquid. Return to boil, reduce heat and simmer 5 minutes or until corn is done.
Melt butter in separate small saucepan. Add flour and cook, stirring constantly, until paste is formed.
Add flour mixture to corn mixture and stir with wooden spoon to mix well. Bring to boil stirring constantly until thickened.
Remove from heat.
Sprinkle with chopped cilantro or parsley. Serve.