Cookies and Cream Ice Cream (from Cooking Light)
PaulaG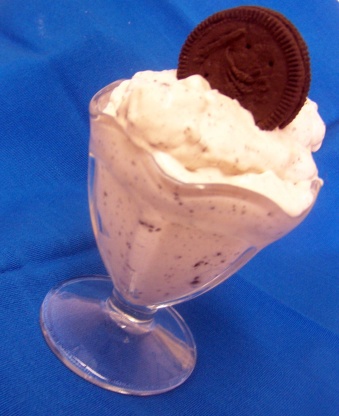 From a May 2001 Cooking Light article on hiding soy in desserts. My whole family loved this creamy dessert with lots of crushed oreos, even my husband who hates tofu. They had no idea it contained soy and I'm sure not telling!

This was good! If you leave out the cookies and add a little cocoa powder it tastes like a Wendy's frosty....of course, I added the cookies too! :)
1

(12 1/3 ounce) package reduced-fat firm tofu, drained
1⁄2 cup sugar
1⁄2 cup half-and-half

1

teaspoon vanilla
1⁄4 teaspoon salt

2

cups frozen fat-free whipped topping, thawed

10

cream-filled chocolate sandwich cookies, crushed (Oreos)

8

cream-filled chocolate sandwich cookies (Oreos) (optional)
Combine first 5 ingredients in a food processor or blender; process until smooth. Place tofu mixture in a large bowl. Fold in whipped topping. Pour mixture into freezer can of an ice-cream freezer; freeze according to manufacturer's instructions. Stir in crushed cookies during last 5 minutes of freezing. Spoon ice cream into a freezer-safe container; cover and freeze 1 hour or until firm. Garnish with whole cookies, if desired.