Coconut Curry With Cauliflower, Carrots, & Chickpeas
Rita1652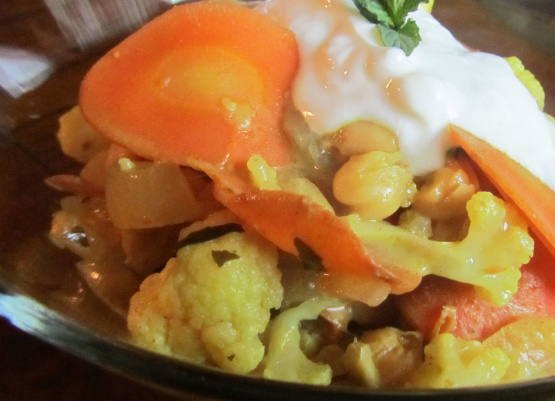 Yum! We made veggie bowls with this recipe. Lined the bowls with baby spinach then added a spoonful of basmati rice, the vegetable mixture/beans, fresh mint and fresh cilantro, lime slices. Perfect! Bought organic cauliflower from the farmer's market just for this occasion, too! Don't skip the mint! Made for Veg Tag/April.
In a large skillet heat the oil to medium-high heat. Add sliced carrots, onions, and cauliflower pieces; saute, stirring frequently, until the onions become translucent.
Stir in curry powder and crushed red pepper flakes (if using), and cook for 1 minute. Add broth, chickpeas, and salt; bring to a boil, then reduce heat to medium-low, cover, and simmer for about 5 minutes.
Add coconut milk and lime zest/juice. Let it simmer, uncovered for a couple of minutes. Stir in mint.
Serve on hot rice with yogurt on top.